Ein beliebtes Verkehrsmittel in der Metropole ist das Dubai Water Taxi wo es derzeit 43 Haltestellen in der Stadt gibt wo man zahlreiche Hotels und Sehenswürdigkeiten direkt per Wasser erreichen kann.
Informationen zum Dubai Water Taxi
Im Emirat stehen den Touristen viele unterschiedliche Verkehrsmittel zur Auswahl die man nützen kann. Etwas ganz besonderes ist sicherlich das Dubai Water Taxi. Wie man schon am Namen erkennen kann ist es ein Taxi auf dem Wasser. Wenn man zum ersten Mal mit diesem fährt dann wird man beeindruckt sein. Es gibt wahrscheinlich keine andere Stadt auf der Welt wo so etwas angeboten wird. Das Emirat möchte natürlich immer die neuesten Transportmittel anbieten. Die Nutzung ist für Touristen möglich und natürlich auch für die Einheimischen. Diese sind auch immer gerne unterwegs mit diesem Verkehrsmittel. Die Boote sehen sehr futuristisch aus und passen optimal zu Dubai. Der Vorteil ist sicherlich die Privatsphäre die man dort hat und man auch vieles erreichen kann.
Wieviele Personen haben dort Platz
In einem Dubai Water Taxi haben bis zu 10 Personen Platz. Somit ist dieses auch für Kleingruppen geeignet, oder auch für Familien mit Kindern. Es gibt sogar einen kleinen Bildschirm wie in einem Flugzeug und das schöne ist sicherlich das diese auch klimatisiert sind. In den Monaten im Sommer ist es immer sehr warm im Emirat und dann muß man während der Fahrt nicht schwitzen. Somit kommt man dort sehr bequem am gewünschten Ziel an. Während der Fahrt kann man auch tolle Fotos machen da man sich dort auf dem Wasser befindet und man ganz andere Fotomotive bekommt.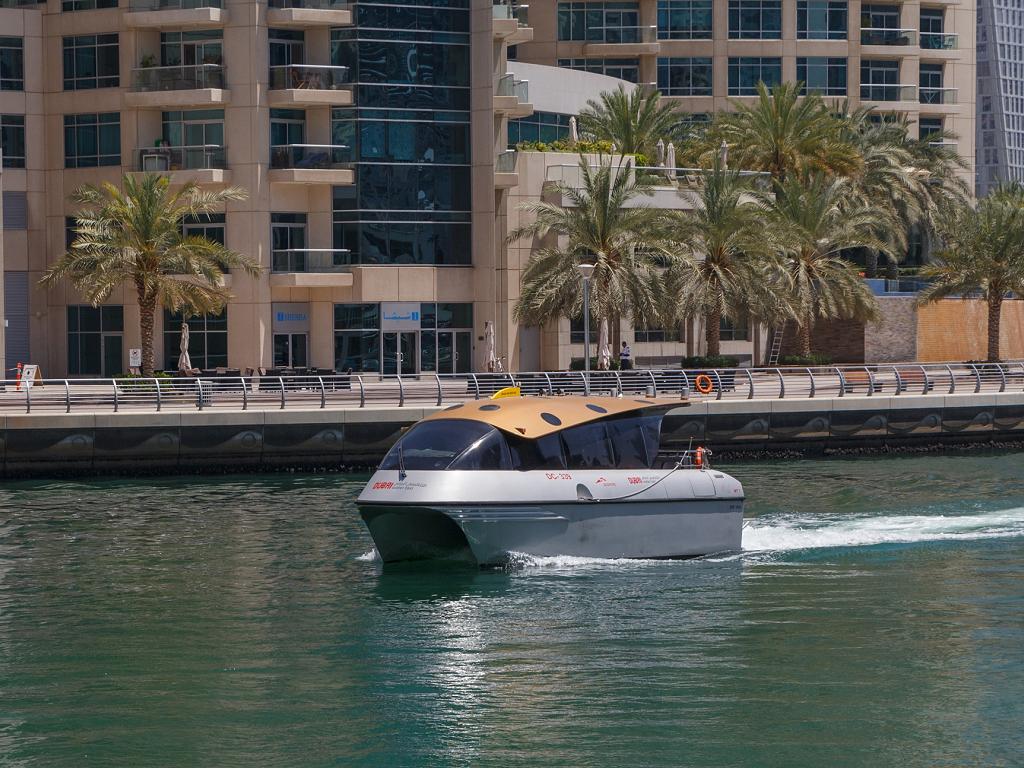 Wo gibt es dort Haltestellen
Mittlerweile sind diese in der ganzen Stadt unterwegs und es gibt derzeit 43 Haltestellen wo man ein- und aussteigen kann. Bitte schauen Sie sich einmal die Liste wo man genau erkennen kann wo es Haltestellen gibt. Sehr praktisch ist sicherlich das dort auch viele beliebte Hotels dort dabei sind und man von dort aus direkt losfahren kann.
Al Mamzar Station
Waterfront Market
Deira Old Souq Station
Al Sabkha Station
Baniyas Station
Dubai Festival City Station
Dubai Creek Golf & Yacht Club Station
Al Shindagha Station
Bur Dubai Station
Al Fahidi Station
Al Seef Station
Creek Park – A Station
Creek Park – B Station
Al Boom Tourist Village Station
Al Ghubaiba Station
Al Jaddaf Station
La Mer Marine Transport Station
Jumeirah Beach Park Station
Jumeirah Beach Hotel Station
Port Rashid Station
Al Sufouh Station
Dubai Marina Station
Jebel Ali Golf Club Station
Atlantis the Palm Station
Mina Siyahi Station
One&Only Royal Mirage Station
One&Only The Palm Station
Rixos Hotel Station
Dubai Marina Mall Station
Sofitel Resort the Palm Station
Marina Terrace Station
Marina Promenade Station
Dubai Design District Station
Anantara Station
Dubai Canal Station
Jumeirah Station
Al Wasl Station
Al Safa Park Station
Sheikh Zayed Road Station
Business Bay Station
Marasi Station
Al Wajeha Al Maeyah Station
Waldorf Astoria Dubai Palm Jumeirah Station
Was kostet dort eine Fahrt
Sehr wichtig ist auch natürlich was eine Fahrt mit dem Dubai Water Taxi überhaupt kostet. Dieses ist natürlich etwas teurer wie ein ganz normales reguläres Taxi. Aber wie schon erwähnt macht dies viel Spaß und man sollte dies einmal ausprobieren. Es ist auch möglich dieses für eine Stunde zu mieten und man kann dann überall hinfahren wo man möchte. Das ist sicherlich dann eine ganz andere Art wie man eine Dubai Stadtrundfahrt machen kann. Wenn man dies machen möchte dann muß man rund 400 Dirham ( 96 Euro ) pro Stunde ausgeben.
Allerdings haben dort auch bis zu 10 Personen Platz und wenn man sich den Betrag teilt dann ist dies auch nicht mehr so viel. Für eine einzelne Fahrt von zum Beispiel der Dubai Marina Mall Station bis zum Waldorf Astoria Dubai Palm Jumeirah muß man ungefähr 195 Dirham ( 47 Euro ) ausgeben. Das Taxi ist dann gut 42 Minuten auf dem Wasser unterwegs. Weiterhin sollte man auch nicht vergessen dem Fahrer ein Trinkgeld zu geben. Die Preise für dieses Taxi ist dann in Ordnung da es etwas außergewöhnliches ist.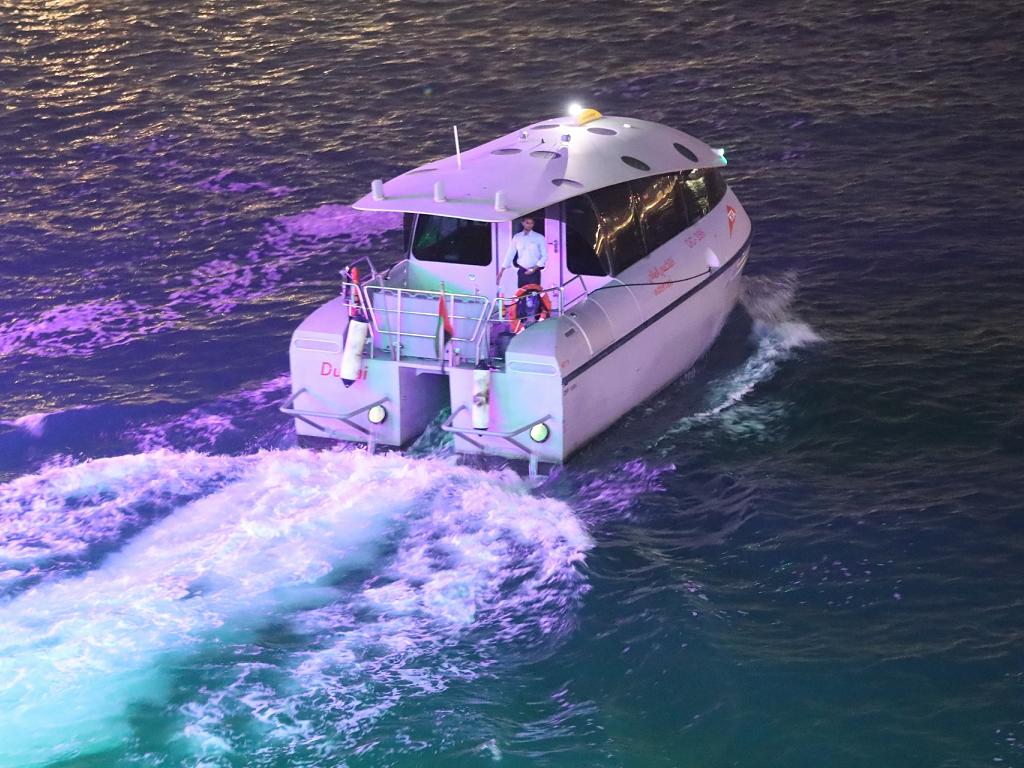 Muß man dort vorher einen Termin ausmachen
In der Regel ist es immer am besten wenn man vorher ein Dubai Water Taxi bucht auf der offiziellen Homepage von RTA ( Roads and Transport Authority ). Dort kann man dann genau eingeben welche Strecke man fahren möchte und zu welcher Uhrzeit. Danach braucht man dort nur noch hingehen zur vereinbarten Haltestelle und dann kann es schon losgehen. Wenn man ein Taxi irgendwo sieht dann kann man dort auch spontan mitfahren wenn dieses gerade verfügbar ist. Man kann den Betrag schon vorher Online bezahlen oder direkt vor Ort im Boot selber.
Wann sind die Fahrtzeiten
Eine Fahrt mit einem Dubai Water Taxi ist täglich möglich von 10:00 Uhr bis 22:00 Uhr. Also ist es dort möglich wenn man zum Beispiel in einem Hotel auf The Palm Jumeirah übernachtet das man sich dort um vielleicht 12:00 Uhr zu The Beach fahren lässt. Am Abend um 18:00 Uhr kann man sich dann wieder zurückfahren lassen und das ist sehr praktisch für die Touristen. Wir empfehlen dort aber immer vorher einen Termin auszumachen damit dies dann auch klappt. Dieser Service wird dann auch aber gerne vom Hotel angeboten. Man geht dann einfach zum Concierge und teilt diesem mit was man gerne hätte.
Sind diese klimatisiert
Selbstverständlich ist in den kleinen Booten auch eine klimatisierung vorhanden. Im Sommer kann es ganz schön warm werden in Dubai und dann ist man immer froh wenn es etwas kühler ist. Über den Winter ist es dann eher mild und man braucht diese nicht unbedingt im Dubai Water Taxi. Also kann man dort ganz privat von einer Station zu einer anderen fahren. Nach unserer Meinung ist dies eines der besten Verkehrsmittel in der Stadt. Es ist zwar etwas teurer wie ein normales Taxi, aber es ein tolles Erlebnis was man einmal ausprobieren sollte.