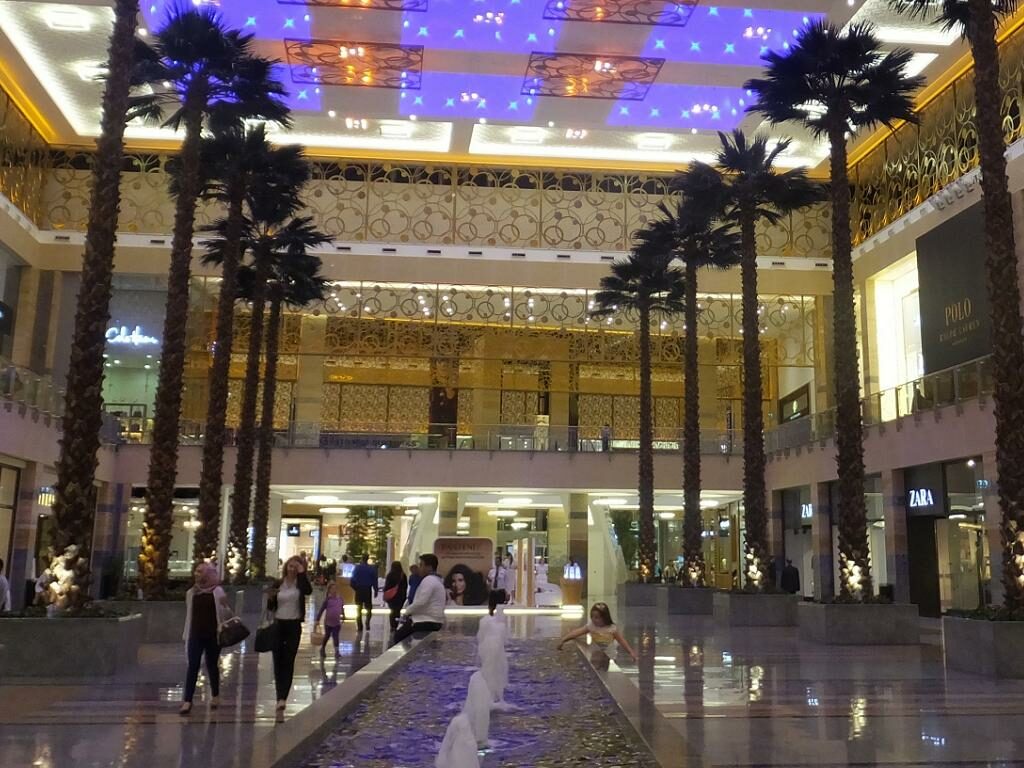 Ein großes Einkaufszentrum in Dubai ist der City Centre Mirdif mit rund 430 Geschäften. Man findet dort nahezu was man alles für den täglichen Gebrauch so benötigt. Aber auch für Touristen ist dies natürlich sehr interessant. Besonders Shopping ist eine der beliebtesten Beschäftigungen was Touristen in Dubai machen.
Eröffnung des City Centre Mirdif
Bereits am 16. März 2010 wurde diese Shopping Mall in Dubai eröffnet. Diese ist zwar nicht mehr ganz so neu, zählt aber durch die Anzahl der Geschäfte zu den größeren Malls der Stadt. Die Lage ist in der Nähe des Dubai International Airport und normalerweise besuchen nicht so viele Touristen diesen Stadtteil. Diese bevorzugen lieber die Dubai Mall oder die Mall of the Emirates. Weiterhin hat man dort durch die Nähe zum Flughafen auch immer Fluglärm. Jeden Tag kommen natürlich tausende Besucher und schauen sich das Einkaufszentrum an.
Geschäfte
Wie schon erwähnt findet man dort 430 Geschäfte. Man sollte sich gleich vorab informieren auf dem Plan mit den Geschäften welche man sich anschauen möchte. Es ist praktisch nicht möglich alle zu besuchen da der City Centre Mirdif sehr groß ist. Außer man geht dort mehrmals hin und teilt sich den Besuch in verschiedene Bereiche ein. Im Prinzip findet man dort wie in jeder anderen Mall in Dubai die gleichen Geschäfte. Von Kleidung bis Elektronik findet man nahezu alles. Es gibt auch einen großen Hypermarket wo man frische Lebensmittel bekommt. Die Preise sind vielleicht etwas billiger dort da sich nicht so viele Touristen tummeln.
Öffnungszeiten
An jedem Tag in der Woche ist der City Centre Mirdif geöffnet. Das Einkaufszentrum ist von Sonntag bis Mittwoch von 10:00 Uhr bis 22:00 Uhr geöffnet. Von Donnerstag bis Samstag von 10:00 Uhr bis 24:00 Uhr da dort das Wochenende in Dubai ist. Der Supermarkt Carrefour, die VOX Cinemas und Magic Planet haben etwas andere Öffnungszeiten. Diese sind in der Regel etwas längers wie die Shopping Mall.
Top 3 Strandhotels in Dubai
Essen und Trinken
Für die Verpflegung ist natürlich bestens gesorgt im City Centre Mirdif. Es gibt einen großen Food Court wo man die bekannten Fast Food Ketten findet. Dort kann man sehr schnell und günstig etwas essen. Für Touristen die keine Verpflegung im Hotel gebucht haben ist dies ideal. Aber es gibt auch viele Restaurants wo man eine Bedienung hat. Von Burger bis Steak bekommt man dort alles. Weiterhin findet man auch noch zahlreiche Cafes wo man einen Kaffee oder Kuchen bekommt. Wenn man natürlich ein paar Stunden in der Mall unterwegs ist dann bekommt man auch irgendwann einmal Hunger.
Adresse und Anfahrt
Wie schon erwähnt liegt der City Centre Mirdif in der Nähe des Flughafens. Von dort aus ist dieser sehr schnell zu erreichen. Wenn man ein Flughafenhotel in Dubai gebucht hat dann ist man dort in wenigen Minuten. Mit der Dubai Metro ist die Mall nicht zu erreichen. Wenn man einen Mietwagen hat dann kann man diesen dort kostenlos parken. Es gibt ein großes Parkhaus mit mehreren tausenden Parkplätzen. Für Touristen ist es am besten das man sich mit dem Taxi dorthin fahren lässt. Besonders das Taxifahren ist in Dubai ja nicht besonders teuer und dann kann man sich das auch einmal leisten.
Unterhaltungsmöglichkeiten
Es handelt sich bei diesem Komplex nicht nur um eine Shopping Mall, sondern man findet dort auch zahlreiche Unterhaltungsmöglichkeiten. Sehr spektakulär ist sicherlich iFLY Dubai. Dort kann man einmal in die Luft schweben und das ist eine tolle Attraktion und macht viel Spaß. Das bieten zum Beispiel andere Malls in Dubai nicht an. Dann gibt es im City Centre Mirdif noch ein großes Kino wo man sich die neuesten Filme anschauen kann. Weiterhin findet man dort auch noch zahlreiche Fahrattraktionen für die kleinen Kinder. Also ist dort einiges geboten und man kann dort auch hingehen wenn man nichts einkaufen möchte.