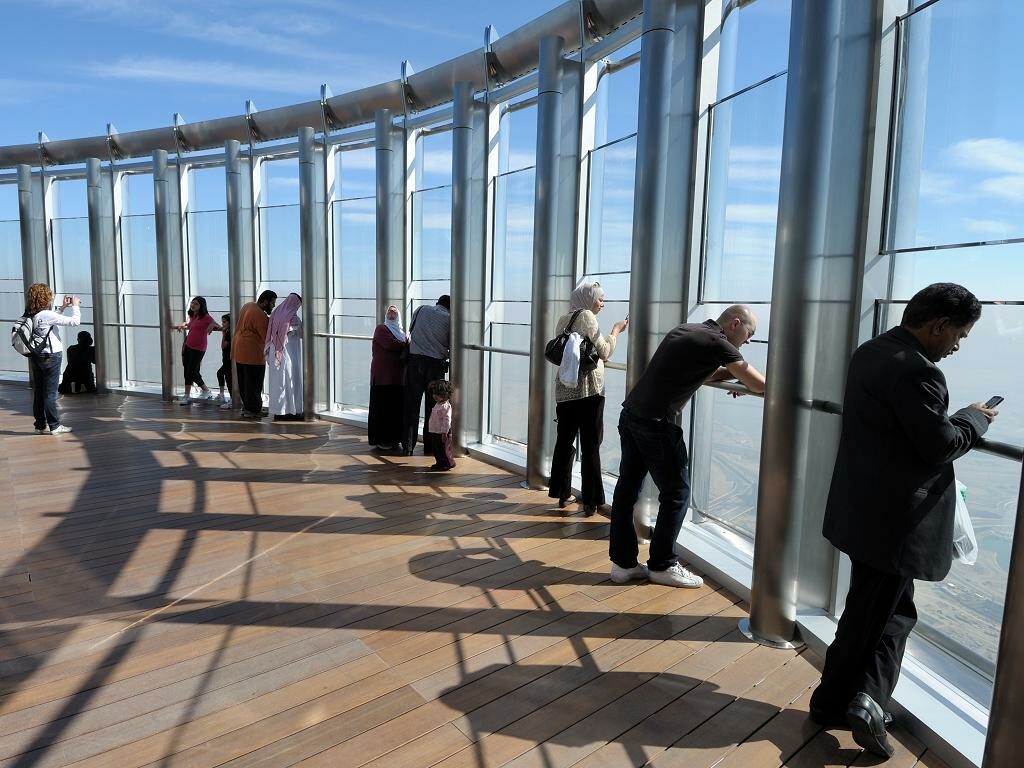 Die beste Aussicht auf die Stadt bekommt man von den zahlreichen Dubai Aussichtsplattformen die man besuchen kann. Einige davon sind kostenlos und bei anderen muß man eine Eintrittsgebühr bezahlen. Welche das sind möchten wir hier einmal erklären. Diese sind natürlich auch perfekt geeignet wenn man ein Foto von der Dubai Skyline machen möchte. Bei Nacht sieht diese natürlich sehr spektakulär aus.
Muß man bei den Dubai Aussichtsplattformen etwas bezahlen
Im Prinzip kann man diese nicht kostenlos anschauen. Entweder muß man ein Ticket kaufen wie das beim Burj Khalifa der Fall ist oder man sitzt dann in einer Bar oder Lounge. Dort sollte man natürlich dann etwas Trinken damit man die Aussicht genießen kann. Im Prinzip ist dies ja auch normal da ansonsten zu viele Besucher sich die Dubai Aussichtsplattformen anschauen möchten.
Burj Khalifa At the Top
Eine der meistbesuchten Dubai Aussichtsplattformen ist natürlich At the Top die sich im Burj Khalifa befindet. Jeder Tourist möchte gerne einmal vom höchsten Gebäude der Welt herunterschauen. Allerdings muß man dort ein Ticket kaufen und man sollte dies vorab reservieren. Ansonsten muß man an der Tageskasse deutlich mehr dafür bezahlen. Das Ticket ist in unserem Dubai Ausflüge Shop erhältlich. Die Aussichtsplattform befindet sich auf einer Höhe von 456 Metern in den Etagen 124 und 125. Mit einem der schnellsten Aufzügen der Welt wird man dort hochgefahren. Die Aussicht ist natürlich sensationell was man sich vorstellen kann.
Burj Khalifa At the Top Sky
Wenn man es etwas noch höher haben möchte dann sollte man die Aussichtsplattform At the Top Sky besuchen. Diese ist natürlich auch im Burj Khalifa, nur etwas höher. Man befindet sich dort auf einer Höhe von 555 Metern in der 148. Etage des Wolkenkratzers. Aber der Burj Khalifa hat eine Höhe von 828 Metern. Die Aussicht ist natürlich noch besser und man darf dort aber nur eine Stunde bleiben. Weiterhin muß man auch mehr für das Ticket bezahlen. Aber man bekommt dort auch Datteln, Gebäck und arabischer Kaffee serviert.
Top 3 Strandhotels in Dubai
The Dubai Frame
Auch sehr schön ist die Aussichtsplattform vom höchsten Bilderrahmen der Welt. Dieser nennt die The Dubai Frame und auf einer Höhe von 150 Metern kann man dort auf die Skyline blicken. Sehr spektakulär ist die Brücke zwischen den beiden Türmen wo es einen Boden aus Glas gibt. Für den Besuch dort benötigt man allerdings auch ein Ticket. Die Aussichtsplattform befindet sich übrigens im Zabeel Park.
The Neos Bar
Im The Address Downtown Dubai Hotel befindet sich ganz oben die The Neos Bar. Von dort oben hat man einen tollen Blick auf den Burj Khalifa. Bestimmt möchte man auch einmal den Wolkenkratzer von der Vogelperspektive aus betrachten. Das ist dort genau möglich bei einem kühlen Cocktail. Man muß mit einem speziellen Aufzug dort hochfahren und dann ist man in der Bar. Allerdings kommt man dort nicht in das Freie und kann nur durch die Glasscheibe einen Blick auf die umliegenden Wolkenkratzer werden. Aber natürlich auch sehr interessant die Aussicht.
Level 43 Sky Lounge
Eine imposante Skyline bietet die Sheikh Zayed Road an. Denn dort befinden sich die höchsten Wolkenkratzer von Dubai. Eine schöne Rooftop Bar befindet sich im Four Points by Sheraton Sheikh Zayed Road Hotel. Dort ist die Level 43 Sky Lounge und man hat dort einen 360 Grad Rundumblick. Weiterhin ist das schöne dort das man sich im Freien befindet. Bei den angenehmen Temperaturen in Dubai ist dies natürlich kein Problem. Die Lounge befindet sich übrigens im 43. Stockwerk des Gebäudes.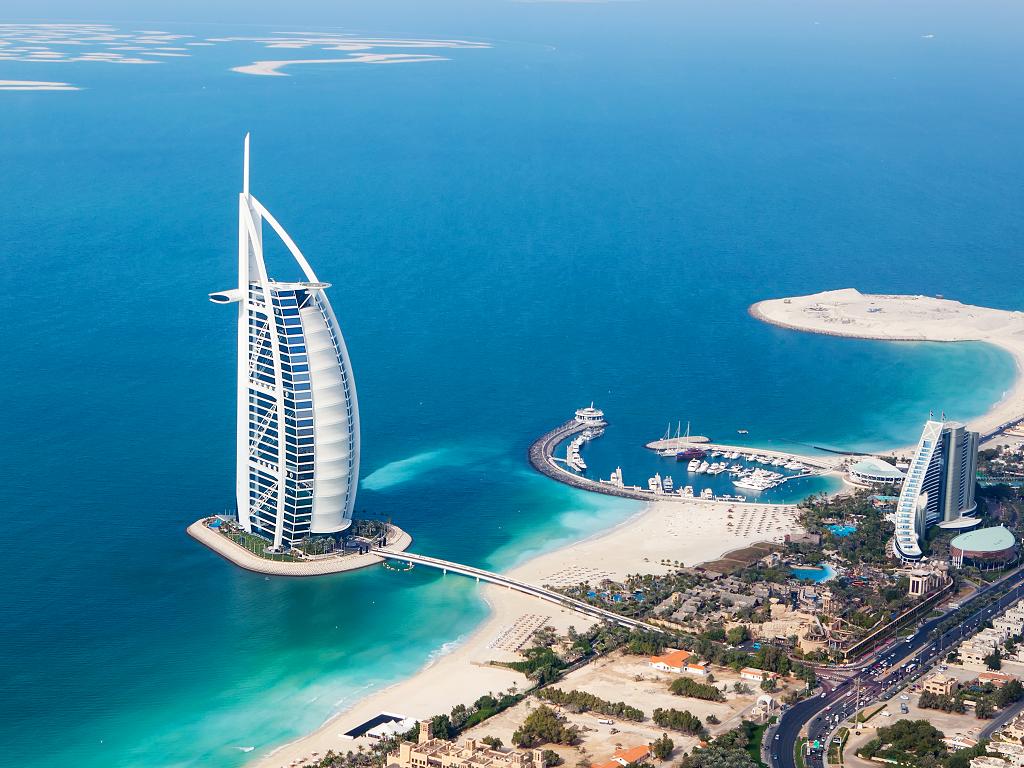 Skyview Bar im Burj al Arab
In luftiger Höhe des Burj al Arab Hotels befindet sich die Skyview Bar. Von dort oben hat man einen imposanten Blick auf The Palm Jumeirah. Allerdings kommt man dort auch nicht ins Freie. Aber es gibt dort sehr gute Cocktails die man genießen sollte. Die Bar liegt im 27. Stockwerk des Hotels. Für die Besichtigung des Burj al Arab benötigt man allerdings immer eine Reservierung. Ansonsten kann man das Hotel nicht betreten was man sich vorstellen kann. Die Nachfrage ist immer sehr groß.
Iris im The Oberoi Dubai Hotel
Auf dem Dach des The Oberoi Hotels in Dubai liegt die Lounge Iris. Von dort oben hat man auch einen tollen Blick auf die umliegenden Wolkenkratzer. Wer in diesem Hotel übernachtet sollte dort auf jeden Fall einmal vorbeischauen. Dazu gibt es auch noch Musik und man wird begeistert sein. Dieses Hotel gehört zu den luxuriösesten was Dubai zu bieten hat.
Uptown Bar im Jumeirah Beach Hotel
Zwar nicht ganz so hoch wie die anderen Dubai Aussichtsplattformen ist die Uptown Bar im Jumeirah Beach Hotel. Im Prinzip ist es eine Terrasse mit einem Ausblick auf das Burj al Arab Hotel. Aber man kann dort sehr gut den Abend ausklingen lassen. Besonders bei Familien mit Kindern ist dieses Hotel sehr beliebt.
Atelier M
Die Dubai Marina erstrahlt natürlich immer bei Dunkelheit in allen Farben. Im Pier 7 befindet sich in der 7. Etage des Gebäudes das Atelier M. Man ist dort auch nicht ganz so hoch. Aber die Aussicht ist einfach toll. Dort ist immer etwas geboten und man sieht wie die Yachten vorbeifahren. Dazu gibt es auch noch coole Musik und eine Tanzfläche. Selbstverständlich kann man dort auch etwas Essen mit spektakulärer Aussicht.