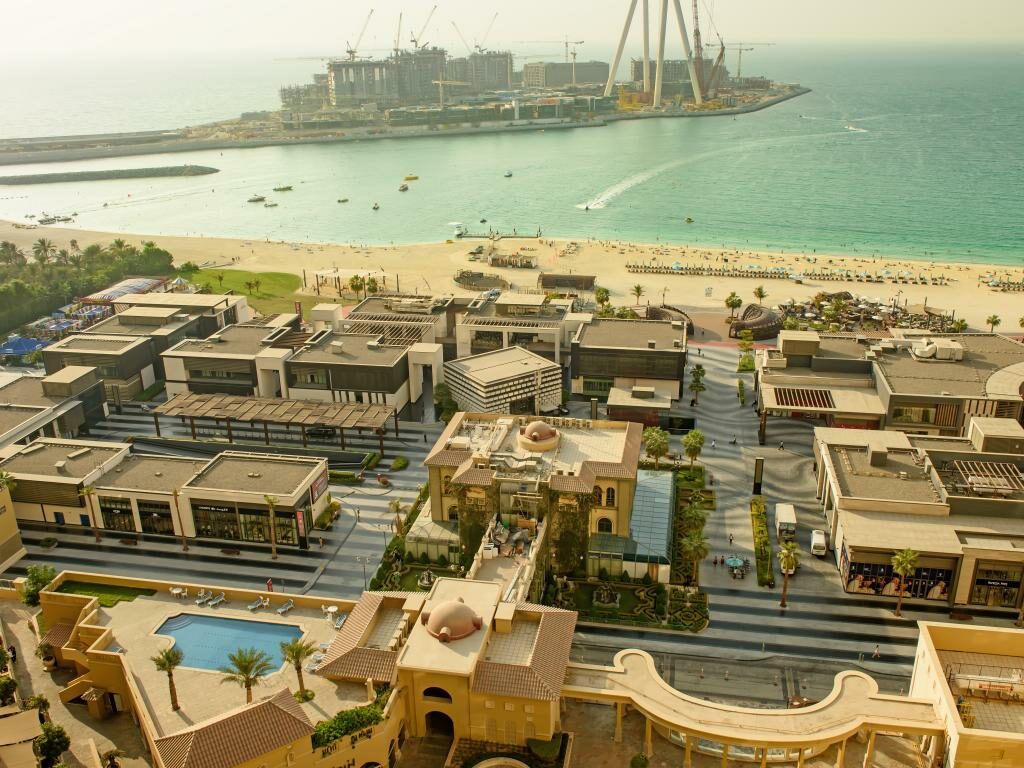 Eine der besten und bekanntesten Flaniermeilen in Dubai ist The Beach. Diese befindet sich in bester Lage am Jumeirah Beach wo sich auch zahlreiche Strandhotels befinden. Als Besucher findet man dort viele Geschäfte und Restaurants. Weiterhin auch sehr ideal wenn man den Abend in Dubai ausklingen lassen möchte. Dort bietet es sich an im Freien zu Essen und das lieben die Touristen.
Informationen zu The Beach in Dubai
Momentan gibt es sehr viele ähnliche Flaniermeilen in der Metropole. Das sind zum Beispiel der City Walk, La Mer oder auch Al Seef. Aber The Beach war einer der ersten die entstanden sind und dieser ist sicherlich auch der beste. Der große Vorteil ist sicherlich die Lage. Denn dort tummeln sich besonders am Abend viele Touristen die noch ein wenig bummeln möchten. Genau das ist dort möglich bei angenehmen Temperaturen. Man muß in keine klimatisierte Shopping Mall gehen wo es kühler ist. Die bekannte Jumeirah Beach Residence ist praktisch vor der Haustüre.
Geschäfte
Wie schon erwähnt gibt es dort sehr viele Geschäfte. Im Prinzip wie in einer großen Shopping Mall in Dubai. Nur das diese sich im Freien befinden in einer Art Fußgängerzone. Man findet sehr viele Bekleidungsgeschäfte. Selbstverständlich viele internationale Marken die man wahrscheinlich schon kennt. Dann gibt es noch mehrere Schuhläden und Kinderwaren kann man auch noch kaufen. Wenn man noch eine neue Badehose oder Badeanzug benötigt dann bekommt man dies dort auch. Aber man findet auch Parfümgeschäfte und noch vieles mehr. Für einen Rundgang sollte man ausreichend Zeit einplanen da es sehr groß ist.
Restaurants
Ein großer Teil von The Beach sind die Restaurants und Cafes. Man kann dort im Freien sitzen und beim Abendessen den Sonnenuntergang anschauen. Aber man sollte sich immer frühzeitig um einen Platz bemühen. Denn die guten Plätze mit toller Aussicht sind immer sehr schnell belegt. Man bekommt dort von Burger bis Pizza alles was man sich vorstellen kann. Es wird auch eine internationale Küche angeboten. Weiterhin auch eine asiatische Küche. Ein Highlight ist sicherlich das Real Madrid Cafe. Als Besucher sollte man wissen das dort die Preise etwas höher sind. Man bezahlt dort deutlich mehr wie in einem anderen Restaurant. Denn dort tummeln sich viele Touristen und deshalb können die Restaurants dort auch mehr verlangen zum Beispiel für eine Pizza.
Top 3 Strandhotels in Dubai
Öffnungszeiten
Die regulären Öffnungszeiten sind von Sonntag bis Mittwoch zwischen 10:00 Uhr bis 24:00 Uhr. Etwas mehr Zeit hat man am Wochenende in Dubai von Donnerstag bis Samstag. Dort hat man eine Stunde mehr Zeit und zwar von 10:00 Uhr bis 01:00 Uhr Nachts. Aber da es sich um keine Shopping Mall handelt wo bei allen Geschäften und Restaurants die Öffnungszeiten gleich sind können diese dort abweichen. Das heißt es kann sein das dort etwas früher oder später geöffnet oder geschlossen wird. Aber man kann dort jeden Tag in der Woche hingehen.
Adresse und Lage
The Beach in Dubai befindet sich direkt am wunderschönen Jumeirah Beach Strand. Der The Walk at Jumeirah Beach Residence befindet sich gleich gegenüber. Somit kann man beides gleich anschauen. Wenn man in der Nähe ein Hotel gebucht hat wie zum Beispiel das Hilton Dubai Jumeirah Beach dann hat man nur ein paar Meter. Aber wenn man ein Hotel hat in der Nähe des Burj Khalifa dann sollte man das Taxi nutzen. Eine Dubai Metro Station in der Nähe gibt es nicht. Man muß dann zur Dubai Marina gehen und dann ist man schon ein wenig zu Fuß unterwegs. Das sollte man dort lieber vermeiden bei der Hitze.
Kann man dort Parken
Wenn man einen Mietwagen hat dann kann man diesen dort Parken. Es gibt ein großes Parkhaus bei The Beach. Allerdings muß man dort eine Gebühr bezahlen von 20 Dirham pro Stunde. Für Dubai Verhältnisse ist dies sehr teuer. Normalerweise darf man in den Shopping Malls kostenlos parken. Aber durch die Lage muß man dort etwas bezahlen. Dort parken auch Touristen die nur ein wenig spazierengehen möchten an der Flaniermeile. Eine weitere Möglichkeit noch wäre die Dubai Tram zu benutzen. Aber dort muß man dann auch wieder zu Fuß gehen.