Der Ski Dubai Polar Pass ist perfekt geeignet wenn man im Wüstenemirat Dubai einmal Skifahren möchte. Mit diesem Ticket darf man sich dort den ganzen Tag aufhalten und es gibt keine Einschränkungen.
Informationen zum Ski Dubai Polar Pass
Im Emirat Dubai gibt es ja mittlerweile sehr viele interessante Attraktionen die Touristen dort machen können. Es wird sicherlich nicht langweilig werden und ein besonderes Highlight ist sicherlich die Skihalle von Ski Dubai. Diese gehört zur Mall of the Emirates und ist seit Jahren bei den Urlaubern sehr beliebt. Sicherlich erwartet man nicht das man in einem solch warmen Land überhaupt Skifahren kann. Aber genau das ist dort möglich gemacht worden. Wenn man dort einmal die Skihalle benutzen möchte dann sollte man den Ski Dubai Polar Pass kaufen. Denn dort kann man Geld einsparen und man darf sich dort den ganzen Tag aufhalten.
Was ist dort alles inklusive
Beim Ski Dubai Polar Pass sind sämtliche Eintrittspreise schon inklusive und man braucht sich um nichts mehr zu kümmern. Das heißt man wird dort viel Spaß haben und braucht keine extra Gebühren bezahlen. Weiterhin ist es dort so das es sehr viele verschiedene Tickets gibt. Man kann dort nur ein paar Stunden verbringen oder auch einen ganzen Tag. Bei diesem Ticket darf man sich dort den ganzen Tag aufhalten und somit ist dieses dann auch günstiger wenn man dort nur vielleicht zwei Stunden bleiben möchte. Wir empfehlen dort auch einen kompletten Urlaubstag einzuplanen da es dort vieles zum Entdecken gibt. Allerdings ist dieses Ticket nicht geeignet wenn man die Skipiste benutzen möchte. Als Besucher hat man dort Zugang zum weltweit größten Schneepark der besonders für die Kinder sehr interessant ist.
Welche Attraktionen gibt es dort für Besucher
Es gibt dort eine zweispurige Schlittenbahn wo man auch eine kleine Abfahrt hinunterfahren kann. Weiterhin noch eine schöne Rodelbahn und auch zahlreiche Schneehöhlen. Mit dem Ski Dubai Polar Pass kann man die Skihalle perfekt erkunden. Allerdings ist dieses vom Skigebiet getrennt. Man sieht natürlich von dort aus auch wieder die Skifahrer herunterfahren. Wenn man dies machen möchte dann benötigt man ein anderes Ticket. Eine Schneeballschlacht dort zu machen ist kein Problem. Das Highlight wird sicherlich sein wenn man einen Schneemann baut und das mitten in der Wüste. Es gibt auch einen Aussichtsturm wo man einen tollen Blick auf die Skipiste hat. Man darf auch mit dem Sessellift fahren wo man viel Spaß haben wird.
Top 3 Strandhotels in Dubai
Ist es in der Skihalle kalt
Wenn man in Dubai Urlaub macht dann kommen natürlich leichte Bekleidung in das Gepäck. Sicherlich hat man dort keine Handschuhe oder Winterjacke dabei. Aber beim Ski Dubai Polar Pass wird dies alles kostenlos für die Besucher gestellt und man braucht überhaupt nichts mitzubringen. Das heißt man geht einfach dort hin und wird viel Spaß haben. Als Besucher bekommt man dort eine komplette Ausrüstung die notwendig ist damit man dort auch nicht frieren muß. Das sind zum Beispiel Schneejacke, Hose, Stiefel und auch warme Socken. Für die Kinder gibt es sogar noch einen Helm. Sehr wichtig sind natürlich auch warme Handschuhe.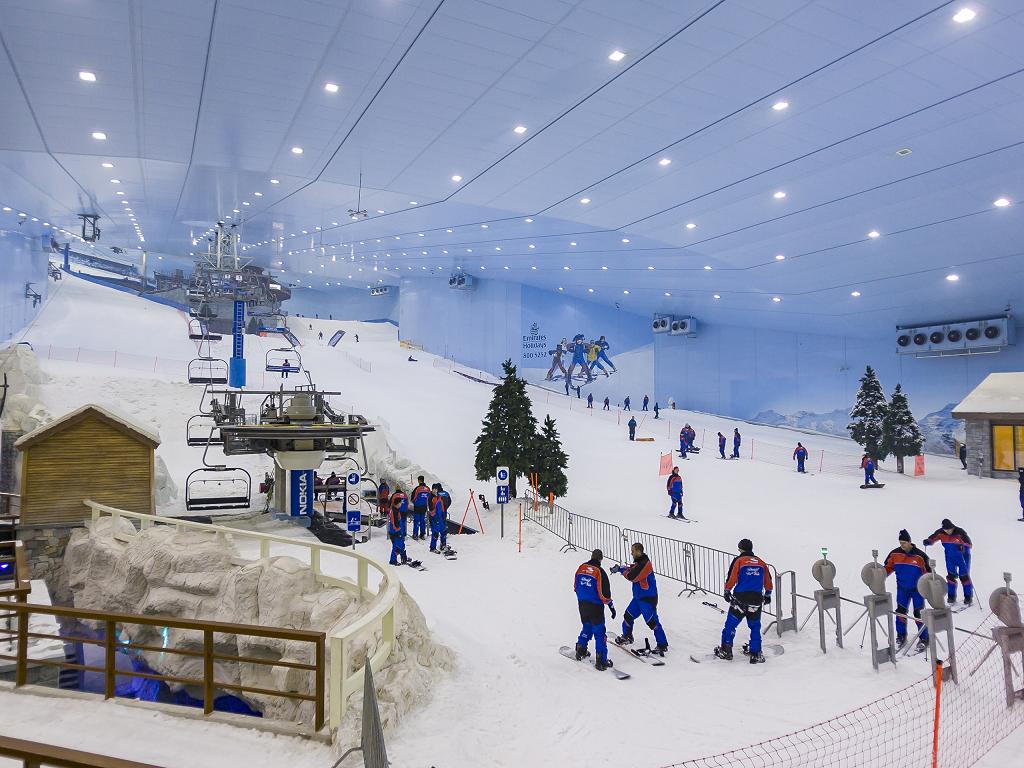 Was kostet dort ein Ticket
Man muß sich für einen bestimmten Tag anmelden und dann darf man den Ski Dubai Polar Pass nutzen. Dieser kostet derzeit für Erwachsene Personen und Kinder ab 63,00 Euro pro Person. Weiterhin gibt es noch keine Kinderermäßigung und diese bezahlen auch den gleichen Preis. Allerdings muß immer eine Erwachsene Person dort dabei sein damit das Kind dieses nutzen kann. In der Regel bezahlt man vor Ort mehr für das Ticket und somit kann man dort Geld einsparen.
Öffnungszeiten
Die Skihalle von Ski Dubai ist zu den regulären Öffnungszeiten der Mall of the Emirates immer geöffnet. Von Sonntag bis Mittwoch ist dies von 10:00 Uhr bis 22:00 Uhr und von Donnerstag bis Samstag zwischen 10:00 Uhr bis 24:00 Uhr. Somit hat man dort ausreichend Zeit den Ski Dubai Polar Pass zu nutzen. Wir empfehlen aber den Besuchern immer gleich früh am Morgen hinzugehen und sich dort den ganzen Tag aufhalten. Es gibt dort auch die Möglichkeit etwas warmes zu Essen und Trinken falls es einen dann doch einmal friert. Aber man wird dort sehr viel Spaß haben.