Die Höhe des Burj Khalifa beträgt 828 Meter und damit ist der Wolkenkratzer das derzeit höchste Gebäude der Welt. Wenn man die Spitze noch dazurechnet dann ist er sogar noch etwas höher mit 829,80 Meter.
Höhe des Burj Khalifa
Wenn man im Emirat Dubai Urlaub macht dann wird man sehr schnell feststellen das es dort sehr viele Wolkenkratzer gibt. Besonders an der Sheikh Zayed Road kann man dies erkennen. In der Nähe befindet sich auch der Burj Khalifa. Dieser befindet sich in der Downtown Dubai und dort kann man diesen natürlich sehr deutlich erkennen. Wenn man direkt vor dem Gebäude steht dann hat man den Eindruck das dieser gar nicht so hoch ist. Der Grund ist sicherlich das die Gebäude herum auch alle sehr hoch sind. Somit täuscht dies dann den Eindruck. Allerdings wenn man auf der Aussichtsplattform ist und nach unten blickt dann erkennt man sofort wie hoch das Gebäude eigentlich ist.
Wo befindet sich die höchste Etage im Gebäude
Die höchste erreichbare Etage die mit einem Aufzug zu erreichen ist befindet sich auf einer Höhe von 638 Metern. Aber diese ist für Besucher nicht zugänglich gemacht worden. Diese ist nur für Techniker zugänglich und nicht für Touristen. Wenn man noch weiter nach oben möchte dann ist dies nicht mehr mit einem Aufzug möglich. Man muß dann über Treppen weiter nach oben klettern. In den unteren Etagen befinden sich auch zahlreiche Räume mit Technik. Sicherlich kann man sich vorstellen das in einem solchen Gebäude auch viel Elektronik vorhanden sein muß damit der Tower auch funktioniert.
Aussichtsplattform At the Top Sky
Für die Besucher ist die höchste Etage die zugänglich gemacht worden ist für die Öffentlichkeit die 148 Etage. Dort befindet sich die Aussichtsplattform At the Top Sky auf einer Höhe von 555,70 Metern. Weiterhin ist dort die Aussicht natürlich sensationell was man sich vorstellen kann. Diese Aussichtsplattform ist fast noch 100 Meter höher als die untere. Allerdings muß man dort auch mehr Eintritt bezahlen wenn man sich dies anschauen möchte. Von dort aus erkennt man gleich die Höhe des Burj Khalifa und diese ist beeindruckend.
At the Top
Die meistbesuchte Aussichtsplattform im Burj Khalifa nennt sich At the Top. Dort kann man die Höhe des Burj Khalifa auch sehr gut erleben. Diese befindet sich auf einer Höhe von 452,10 Metern in der 124 Etage. Weiterhin hat man dort auch eine Außenterrasse wo man tolle Fotos machen kann. Die Menschen und Autos sehen von oben sehr klein aus. Wenn man Glück hat dann findet auch gerade die Show von den Dubai Fountains statt.
Restaurant At.Mosphere
Ein weiteres Highlight im Burj Khalifa ist sicherlich auch das höchste Restaurant der Welt. Das nennt sich At.Mosphere und befindet sich in der 122 Etage auf einer Höhe von 441,30 Metern. Allerdings muß man dort vorher einen Tisch reservieren. Sicherlich kann man sich vorstellen das dort die Nachfrage besonders groß ist. Wer möchte nicht gerne dort einmal ein Abendessen verbringen.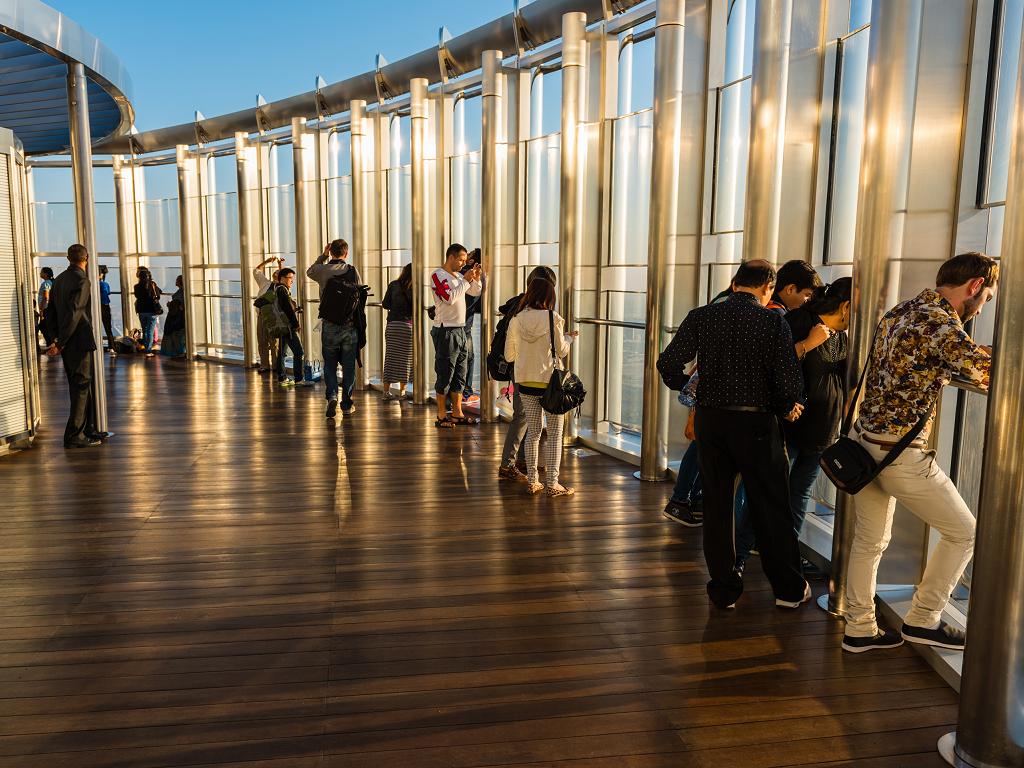 Armani Hotel Suites
In den Etagen 38 bis 39 befinden sich die Armani Hotel Suites. Einmal im höchsten Gebäude der Welt zu übernachten ist auch für Touristen möglich. Das Armani Hotel Dubai ist ein fünf Sterne Luxushotel. In diesen Etagen befinden sich nur Suiten. Diese sind natürlich etwas teurer wie die normalen Zimmer. Aber die Aussicht ist natürlich noch besser.
Armani-Residenzen und Armani-Hotel
Die Nachfrage ist besonders hoch in diesem Hotel zu übernachten. Das Armani Hotel Dubai befindet sich in den Etagen 1 bis 8. Dort sind auch die Standardzimmer vorhanden. Schon luxuriöser sind die Armani-Residenzen in den Etagen 9 bis 16. Im Prinzip kann man sagen je höher man übernachten machte desto luxuriöser und auch teurer sind die Zimmer. Aber das ist natürlich etwas ganz besonderes was man bestimmt nicht jeden Tag macht. Die Höhe des Burj Khalifa ist beeindruckend und man muß sich im Gebäude befinden damit man diese spüren kann.