Bestimmt möchte man auch eines der spektakulärsten Hotels in Dubai, das Atlantis The Palm einmal besichtigen wenn man dort im Urlaub ist. Für nicht Hotelgäste ist es möglich einige Bereiche von diesem Resort anzuschauen. Aber welche das sind und was man dafür bezahlen muß möchten wir hier einmal genau erklären.
Informationen zur Atlantis The Palm Besichtigung
Sicherlich kann man sich vorstellen wenn man dort übernachtet das man nicht von Touristen gestört werden möchte. Deshalb wurde das Resort so aufgebaut das die Hotelgäste dort ungestört den Urlaub verbringen können und neugierige Besucher dort trotzdem einige Bereiche anschauen können.
Aquaventure Wasserpark
Eine sehr gute Möglichkeit ist den Aquaventure Wasserpark zu besuchen. Das ist einer der größten und schönsten im Emirat. Wenn es gerade sehr warm ist dann bekommt man dort die notwendige Abkühlung. Aber dort muß man ein Ticket kaufen damit man diesen besuchen kann. Wenn man Gast des Hotels ist dann darf man dort kostenlos hinein.
The Lost Chambers Aquarium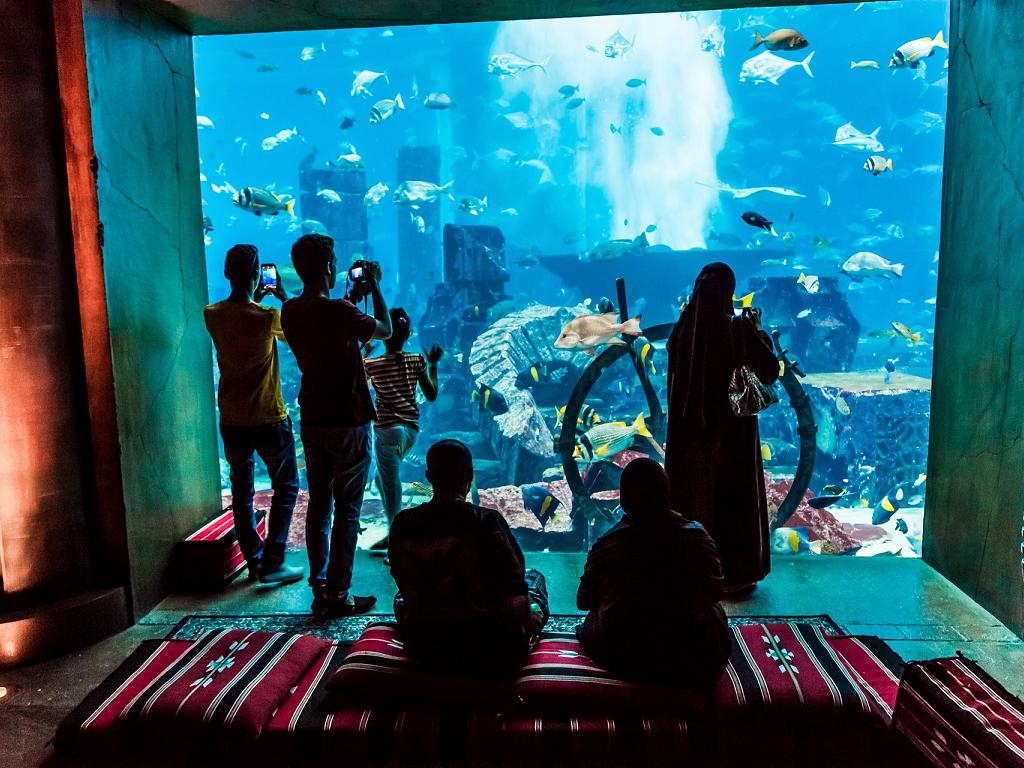 Auch gebührenpflichtig ist der Besuch vom The Lost Chambers Aquarium wo man eine gigantische Unterwasserwelt sieht mit 65.000 Fischen die sich in mehreren Aquarien befinden. Es ist super gemacht worden und dafür muß man natürlich eine Eintrittsgebühr bezahlen. Wenn man aber auch hier wieder Hotelgast ist darf man dieses kostenlos besichtigen. Also hat man dort immer ein Vorteil gegenüber anderen Besuchern die dort nicht übernachten.
Top 3 Strandhotels in Dubai
Ambassador Lagoon
Das größte Aquarium mit einer gigantischen Scheibe aus Glas ist die Ambassador Lagoon. Für Tagesbesucher ist diese auch zugänglich gemacht worden und vom The Lost Chambers Aquarium hat man einen Zugang. Man sieht dort Teufelsrochen und Haie im Aquarium schwimmen was sehr beeindruckend aussieht. Weiterhin kann man dort auch tolle Fotos machen.
Dolphin Bay
Wenn man einmal mit Delfinen schwimmen möchte im Dubai Urlaub dann ist dies in der Dolphin Bay möglich. Es soll das weltweit größte Zentrum für Delfine sein. Man legt dort sehr viel Wert auf die Haltung der Meerestiere und diese werden dort besonders gepflegt. Aber auch hier benötigt man ein Ticket und eine Anmeldung wenn man mit diesen einmal schwimmen möchte.
Ein Restaurant im Atlantis The Palm besuchen
Dann gibt es noch eine weitere Möglichkeit zur Atlantis The Palm Besichtigung wenn man einfach ein Restaurant besucht. Es gibt im Hotel sehr viele unterschiedliche Restaurants die man nutzen kann. Von einem Steak bis zum Fischrestaurant bekommt man dort alles. Weiterhin gibt es dort auch Sterne Köche in einigen Restaurants. Man kann sich zum Beispiel zum Brunch oder Buffet anmelden. Hier benötigt man allerdings auch eine Reservierung was man sich vorstellen kann.
Was kann man sich dort kostenlos anschauen
Es gibt einige wenige Bereiche die man als Besucher kostenlos anschauen kann. Man muß sich vorstellen das man mit dem Hotel Geld verdienen möchte und die Atlantis The Palm Besichtigung etwas kostet wenn man etwas sehen möchte. Weiterhin muß man wissen das es ein separater Eingang ist den man nutzen muß. Direkt an diesem Eingang befinden sich ein paar Geschäfte wo man etwas einkaufen kann. Dann noch ein paar Restaurants die man ohne Reservierung besuchen kann. Zum Schluß kommt dann noch der Souvenirshop wo man sich eine Erinnerung an den Besuch kaufen kann. Bei allen anderen Eingängen muß man ein Ticket kaufen wie zum The Lost Chambers Aquarium oder zum Aquaventure Wasserpark.
Kommt man in die Lobby des Hotels
Wenn man kein Gast vom Atlantis The Palm Hotel ist hat man keine Möglichkeit in die Lobby zu kommen. Diese ist nur den Hotelgästen zugänglich und man benötigt dazu die Zimmerkarte. Es steht dort überall eine Security die genau aufpasst wer dort hineingehen möchte. Die Lobby ist aber sehr beeindruckend und passt genau zu diesem Hotel. Weiterhin befindet sich auch der Haupteingang des Hotels auch in einem anderen Bereich. Aber wenn man Hotelgast ist kommt man ohne Probleme in alle Bereiche des Hotels wo sich auch die normalen Tagesbesucher befinden. An den Strand des Hotels kommen auch nur die Hotelgäste.
Unsere Bewertung
Also ist die Atlantis The Palm Besichtigung im Prinzip nur möglich wenn man auch Geld ausgibt. Wenn man nichts ausgeben möchte dann bekommt man dort auch nicht viel zu Sehen außer ein paar Geschäften, Restaurants und dem Souvenirshop. Wenn man dies einmal anschauen möchte dann sollte man sich vorher ein Ticket kaufen in unserem Dubai Ausflüge Shop. Dann wird man auch viel Spaß haben an diesem Hotel und wird begeistert sein was dort alles gebaut worden ist.