Etwas außerhalb vom Stadtzentrum Dubai liegt die Gated Community Arabian Ranches. Dort wohnen sehr viele Einheimische in wunderschen Luxusvillen oder auch Doppelhaushälften. Die Anlage liegt verkehrsgünstig an der Sheikh Mohammed bin Zayed Road und ist vom Jumeirah Beach schnell erreichbar.
Die Lage ist sehr gut und besonders in dieser Gegend wird sehr viel gebaut und befinden sich schon viele interessante Sehenswürdigkeiten wie der Miracle Garden oder auch das Global Village. Der Dubai Autodrome ist auch schnell erreichbar wo man einmal mit einem Rennwagen eine Runde drehen kann.
Bewachte Wohnanlage
Wer in die Wohnanlage möchte der wird am Gate kontrolliert und man muß den Security Mitarbeitern mitteilen was man dort möchte und wenn man besuchen möchte. Wenn man dort wohnt dann kann man natürlich gleich in die Wohnanlage fahren.
Nur Besucher müssen zuerst zum Gate gehen und Arabian Ranches ist 24 Stunden rund um die Uhr bewacht von einer Security. Wer dort wohnt möchte natürlich auch viel Sicherheit haben. Aber die Kriminalität ist in Dubai sehr gering und man braucht sich dort keine Sorgen zu machen.
Top 3 Strandhotels in Dubai
Supermarkt in der Nähe
Sehr praktisch ist das es dort einen Supermarkt mit kleiner Shopping Mall gibt wo man als Bewohner dort einkaufen kann. Ansonsten müsste man ins Stadtzentrum von Dubai fahren wo man natürlich viel längers dafür braucht. Am besten benutzt man dann die Umm Suqeim Street wo man dann direkt an der Mall of the Emirates herauskommt.
Dort gibt es ja einen der größten Supermärkte in Dubai wo man alles findet was man braucht. Der Villenkomplex ist mit sehr schönen arabischen Villen gebaut worden in verschiedenen Stilen. Manche Häuser haben einen eigenen Pool und für andere gibt es einen Community Swimming Pool und auch einen kleinen Kindergarten wo man diese einmal spielen lassen kann.
Innerhalb von Arabian Ranches gibt es noch weitere einzelne Communities die verschiedene Baustile und Themen haben. Sehr beliebt ist der arabische Stil oder auch der mediterrane Stil.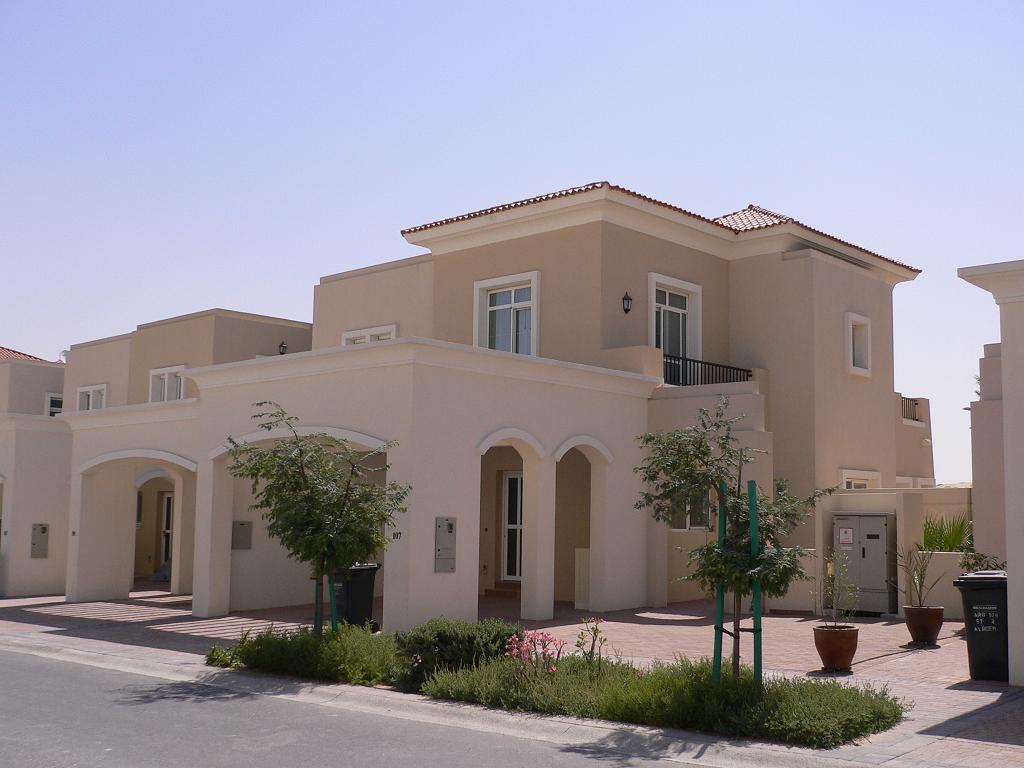 Die Infrastruktur von Arabian Ranches ist mit einer Kleinstadt zu vergleichen und das Highlight ist sicherlich der Arabian Ranches Golf Club der zu den besten Golfplätzen in Dubai gehört. Wer also gerne in Dubai Golf spielen möchte ist dort genau richtig.
Eigenes Golfhotel
Es gibt aber dort auch ein Golfhotel wo man übernachten kann wenn man kein Haus dort besitzt. Selbstverständlich kann man dort auch eine eigene Immobilie kaufen wenn man über das notwendige Kleingeld verfügt. Rund 4.000 Häuser wurden dort schon errichtet in mehreren Bauphasen. Gebaut wurde Arabian Ranches übrigens von Emaar und Restaurants und Cafes gibt es natürlich auch.
Viele Besitzer nutzen auch das Haus als Ferienimmobilie und bleiben ein paar Wochen im Jahr um dort vielleicht Golf zu spielen. Besonders beliebt sind natürlich die Wintermonate da dort in Dubai bestes Wetter ist.