Die beste Flaniermeile in Dubai ist The Walk at Jumeirah Beach Residence mit einer Länge von 1,7 Kilometern. Besonders am Abend ist dort immer viel los. Im Prinzip ist dieser vergleichbar mit dem Ocean Drive in Miami Beach. Unter Tags ist es etwas ruhiger und es ist eine Mischung aus Geschäften, Restaurants und Cafes.
Hotels
Es gibt zahlreiche Hotels am The Walk at Jumeirah Beach Residence wo man übernachten kann. Allerdings muß man wissen das dort die Preise besonders teuer sind. Denn man befindet sich mitten im Geschehen und kann von dort aus alles zu Fuß erkunden. Das ist sehr praktisch wenn man am Abend noch etwas ausgehen oder bummeln möchte. Bekannte Hotels sind das Hilton Dubai Jumeirah Beach, Hilton Dubai The Walk, JA Ocean View Hotel. Oder auch das Amwaj Rotana Jumeirah Beach, Sofitel Dubai Jumeirah Beach und noch viele mehr. Von dort aus ist man auch sehr schnell am Strand oder in der Dubai Marina.
Strand
Aber man muß wissen das sich die meisten Hotels nicht direkt am Strand befinden. Denn es ist immer eine Straße dazwischen. Deshalb sind es keine Strandhotels. Diese bieten für die meisten Gäste aber einen kostenlosen Sonnenschirm an den man dann mitnehmen darf. Man muß praktisch nur über die Straße gehen und dann ist man schon dort.
Geschäfte und Supermärkte
Wenn man am The Walk at Jumeirah Beach Residence entlang geht dann findet man dort zahlreiche Geschäfte wo man etwas einkaufen kann. Aber meistens sind es eher kleinere. Perfekt am Abend nach dem Abendessen lohnt es sich dort etwas zu flanieren. Dann muß man auch immer mit vielen Touristen rechnen. Weiterhin findet man dort auch einige Supermärkte. Wenn man ein Apartment gemietet hat dann kann man dort Lebensmittel einkaufen. Aber auch die Einwohner der Wohntürme der Jumeirah Beach Residence müssen ja irgendwo einkaufen.
Top 3 Strandhotels in Dubai
Restaurants
Man findet dort zahlreiche Restaurants und braucht nicht lange auf die Suche gehen. Wenn man dort ein Hotel gebucht hat dann ist es nicht zwingend erforderlich das man auch die Halbpension bucht. Direkt am The Walk at Jumeirah Beach Residence reiht sich ein Restaurant neben dem anderen. Aber die Preise sind nicht ganz so billig. Für eine Pizza muß man dort locker zwischen 15 bis 20 Euro bezahlen. Aber dafür hat man eine spektakuläre Kulisse. Besonders Touristen lieben es bei warmen Temperaturen im Freien zu Essen. Genau das ist dort möglich.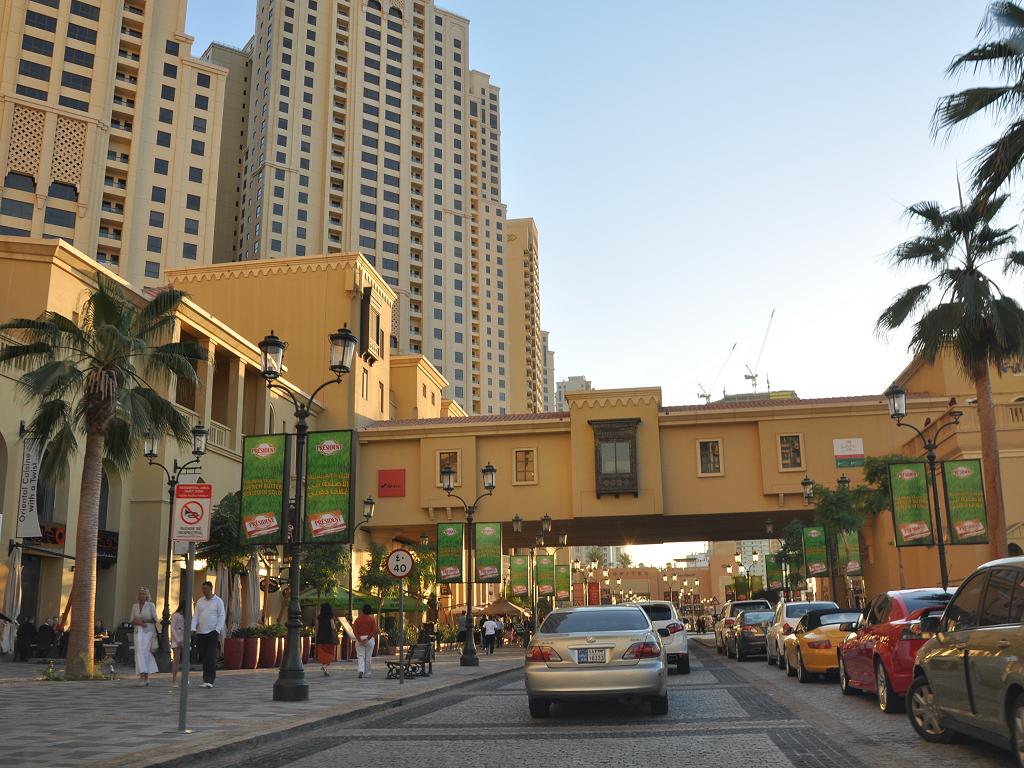 Immobilien
Zahlreiche Wolkenkratzer sind dort entstanden wo man sich ein Apartment kaufen kann. Aber diese sind alle schon verkauft und man hat nur noch die Möglichkeit als Zweitkäufer dort etwas zu kaufen. Die Lage ist natürlich sensationell. Besonders wenn man aber einen Meerblick vom Apartment aus haben möchte dann wird es sehr schnell teuer. Die Preise gehen dort schon in die Millionen. Allerdings ist dies sicherlich auch eine gute Geldanlage. Man kann diese auch als Ferienwohnung nutzen.
Parken
Das Parken ist nicht ganz so einfach am The Walk at Jumeirah Beach Residence. Weiterhin ist es auch nicht so billig. Bei The Beach gibt es ein großes unterirdisches Parkhaus. Pro Stunde muß man allerdings 20 Dirham bezahlen. Das ist nicht ganz billig wenn man seinen Mietwagen dort parken möchte. Bei einigen Hotels hat man dort auch noch die Möglichkeit zu parken.