Das Jumeirah Zabeel Saray ist eines der luxuriösesten Hotels auf The Palm Jumeirah. Es ist ein Palast aus 1001 Nacht wo man einen Badeurlaub verbringen kann mit der ganzen Familie.
Informationen zum Jumeirah Zabeel Saray
Besonders die künstlich erschaffen Insel The Palm Jumeirah ist bei Touristen sehr beliebt. Dort wurden nur die besten Hotels von Dubai gebaut. Dazu gehört sicherlich das Jumeirah Zabeel Saray wo man viel Luxus und Komfort erwarten kann. Wenn man schon zum ersten Mal in die Lobby geht dann wird man beeindruckt sein. Nur die wertvollsten Materialen wurden dort verbaut und das kann man überall erkennen. Das Hotel befindet sich im westlichen Außenring der Insel wo man eine ruhige Lage hat. Von den Zimmern hat man einen tollen Blick auf die Skyline der Dubai Marina oder auch zum Atlantis The Palm Hotel. Wer einen luxuriösen Urlaub im Emirat verbringen möchte ist dort genau richtig. Allerdings kann man sich vorstellen das dort eine Übernachtung auch nicht ganz so billig ist. Aber man wird dort nicht enttäuscht werden und es ist ein Erlebnis das man sich einmal gönnen sollte.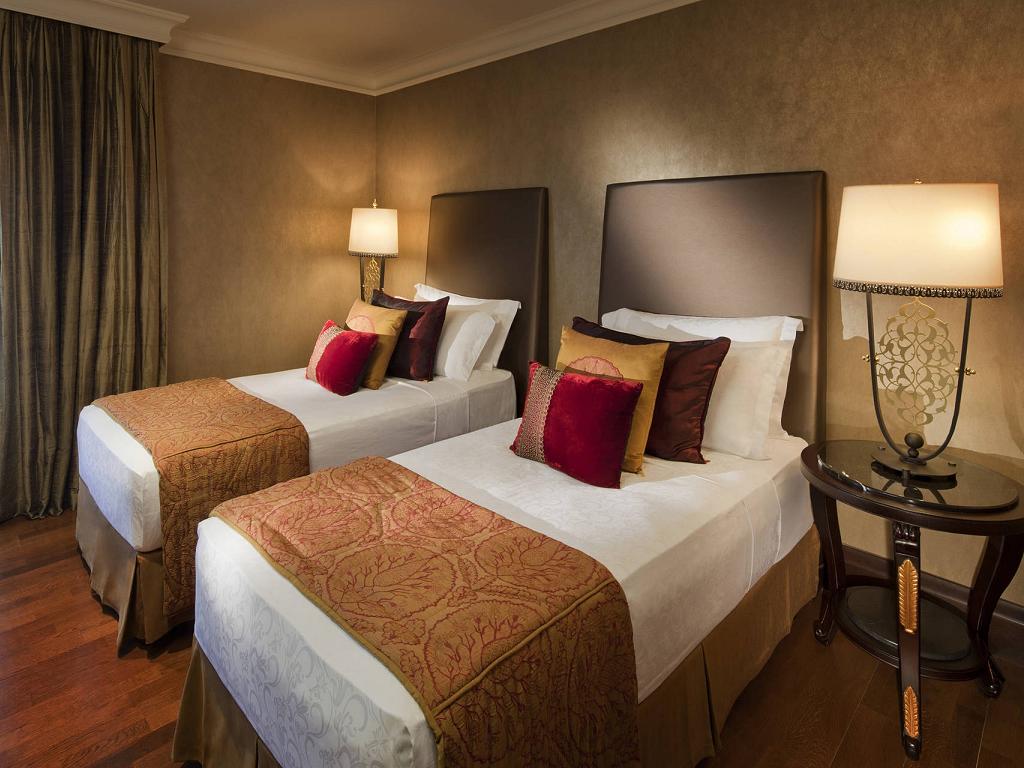 Zimmer und Suiten
Es ist ein großes Hotel mit 405 Zimmer und Suiten. Der Vorteil ist sicherlich das es kein Tower ist und es dort nur ein paar Etagen gibt. Allerdings hat man von den oberen Etagen einen besseren Blick auf die Insel. Die kleinste Kategorie wo man buchen kann ist ein Deluxe Zimmer mit einer Größe von 46 Quadratmetern. Dort kann man zwischen Arabian Sea View oder Palm View auswählen je nach Geschmack. Schon diese Zimmerkategorie ist sehr beeindruckend wo man ein Bad aus Marmor erwarten kann. Besonders die Badewanne ist sehr großzügig gemacht worden.
Weiterhin sind die Zimmer sehr palastartig und so kann man sich auch einmal wie ein Scheich fühlen. Genau das ist in diesem Hotel möglich. Dann gibt es natürlich noch Suiten die deutlich mehr Platz haben. Ein weiteres Highlight beim Jumeirah Zabeel Saray ist die Lagoon Residence wo man praktisch eine eigene Villa hat mit bis zu 480 Quadratmetern. Diese ist an Luxus nicht mehr zu überbieten und dort wird auch ein Butler Service angeboten für die Gäste.
Top 3 Strandhotels in Dubai
Gastronomie
Das Essen und Trinken ist auf einem sehr hohen Niveau beim Jumeirah Zabeel Saray. Wir empfehlen bei der Buchung vom diesem Hotel immer die Halbpension zu reservieren. Denn man muß wissen das man sich auf einer Insel befindet. In der Nähe gibt es dort keine Restaurants oder Shopping Mall die man schnell zu Fuß erreichen kann. In diesem Hotel gibt es neun verschiedene Restaurants, Bars und Cafes. Sicherlich besonders beeindruckend ist das Imperium wo auch das Frühstück und Abendessen serviert wird. Dieser prunkvolle Raum ist an Luxus nicht mehr zu überbieten. Beim Ramadan muß man aber wissen das es dort etwas andere Gerichte gibt die vielleicht für europäische Besucher nicht so geeignet sind. Aber man sollte diese auf jeden Fall einmal ausprobieren wenn man in einem arabischen Land Urlaub macht.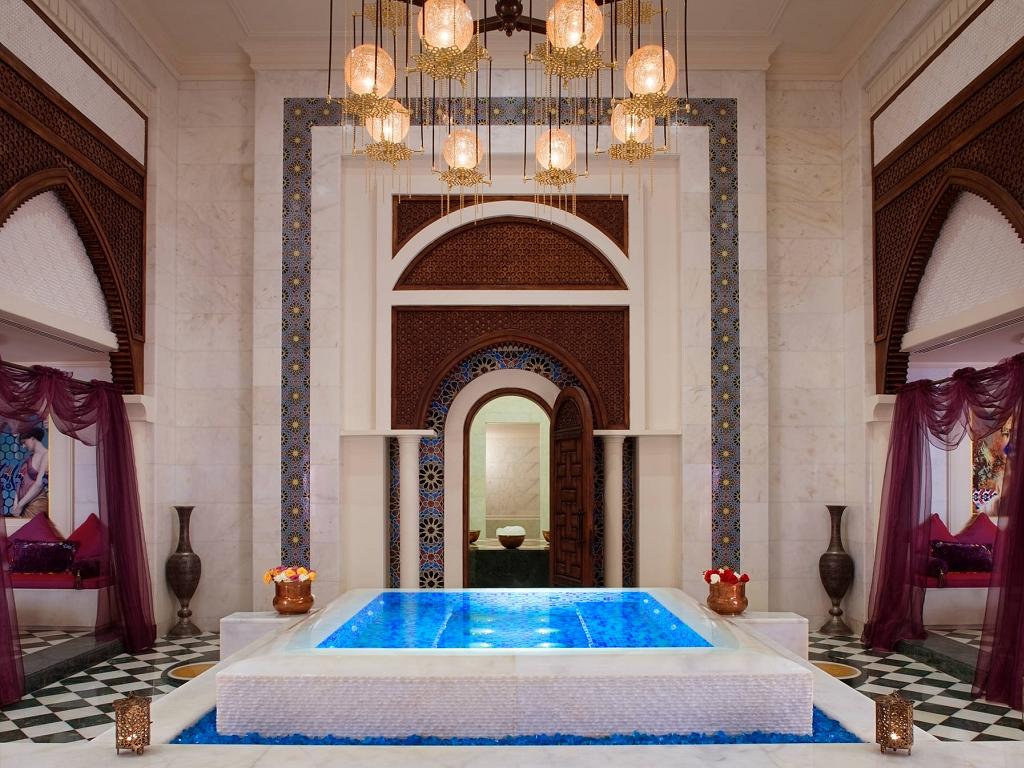 Sport & Wellness
Besonders die gigantische Außenanlage ist ein Traum für die Hotelgäste. Es gibt einen großen Pool wo es schon sehr viele Liegen gibt. Weiterhin auch noch einen kleineren Pool nur für die Kinder. Dann kann man sich noch an den langen Sandstrand legen wo man immer einen freien Platz bekommt. Es gibt aber noch ein weiteres Highlight im Jumeirah Zabeel Saray. Dort befindet sich einer der größten Spa Bereiche im ganzen Mittleren Osten. Das ist der Talise Ottoman Spa mit einer Größe von 8.000 Quadratmetern wo man sich auf jeden Fall einmal eine Massage gönnen sollte. Weiterhin verfügt dieses Hotel auch noch über einen Indoor Swimming Pool was nicht viele Hotels in Dubai haben.
Transferzeit
Bei der Transferzeit vom Dubai International Airport zum Jumeirah Zabeel Saray muß man mit gut 45 Minuten rechnen. Es wird auch ein Limousinentransfer angeboten. Wer dies nicht möchte kann sich auch mit dem Taxi dorthin fahren lassen. Weiterhin wird auch noch ein kostenloser Shuttlebus für die Hotelgäste angeboten. Dort wird die Mall of the Emirates und auch der Wild Wadi Wasserpark angefahren. Als Gast dieses Hotels bekommt man dort übrigens einen kostenlosen Eintritt.
Internetzugang und Shopping
Das Hotel bietet überall einen kostenlosen WLAN Internetzugang an für die Gäste. Dieser funktioniert auch noch am Strand und somit kann man dort auch im Internet surfen wenn man möchte. Dann gibt es noch eine kleine Einkaufsmeile im Jumeirah Zabeel Saray wo es ein paar luxuriöse Geschäfte gibt. Diese befinden sich in der Nähe von der Lobby und nennt sich The Avenue.