Für einen Bummel am Abend ist die Flaniermeile Box Park sicherlich zu empfehlen. Denn dort gibt es zahlreiche Geschäfte, Restaurants und Cafes. Für die Besucher schauen die Shops wie Container aus. Weiterhin ist es aber sehr schön gemacht worden für Touristen. Im Prinzip ist dies eine Art Fußgängerzone im Emirat die sich im Freien befindet.
Der Box Park in Dubai
Momentan werden dort sehr viele neue Flaniermeilen gebaut. Der Box Park gehört dazu und das Konzept ist sehr ähnlich wie beim City Walk Dubai oder auch La Mer. Besonders am Abend sind die Urlauber immer auf der Suche nach einer Einkaufsmöglichkeit im Freien. Denn durch die warmen Temperaturen möchten man diesen ja gerne draußen verbringen und nicht in einem klimatisierten Einkaufszentrum wie der Dubai Mall. Selbstverständlich ist diese auch sehr schön, aber man befindet sich in einem Gebäude. Beim Box Park ist dies anders und man kann sich im Freien bewegen. Wenn man ein gutes Geschäft oder Restaurant sieht dann geht man dort einfach rein. Sicherlich auch sehr praktisch da diese dann klimatisiert sind. Besonders in den heißen Sommermonaten muß man sich immer auch abkühlen. Touristen aus Deutschland sind solche Temperaturen nicht gewohnt.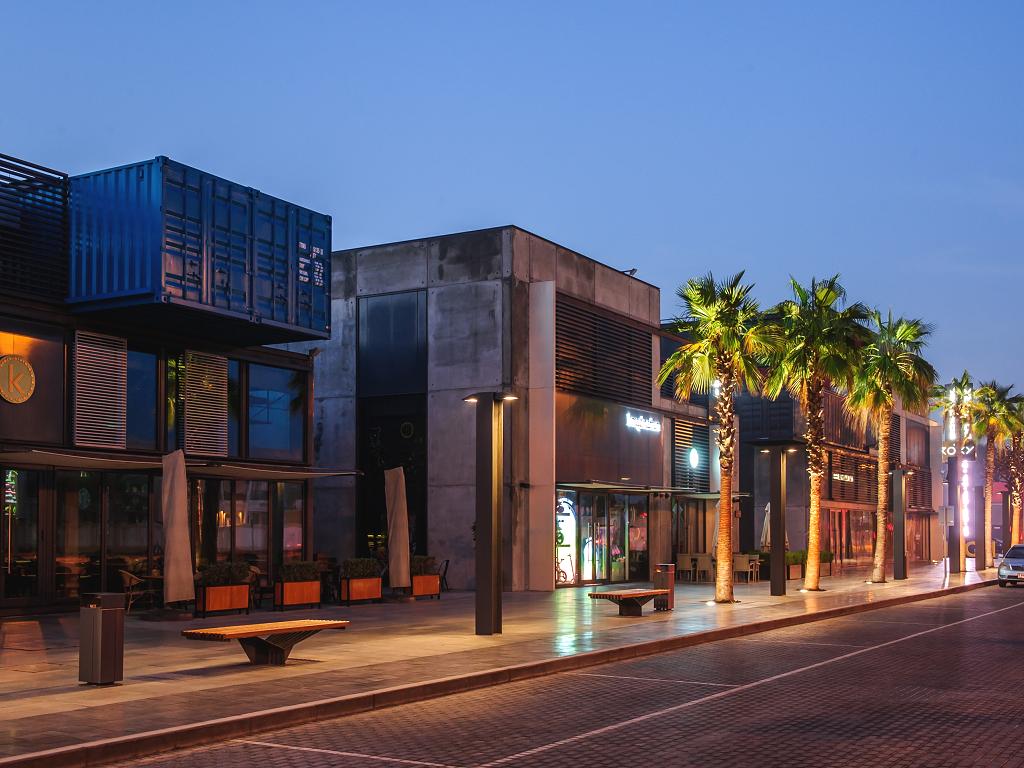 Was für Geschäfte gibt es dort
Man kann sagen das es sehr unterschiedliche Geschäfte gibt. Im Prinzip gleich wie bei einem großen Einkaufscenter. Selbstverständlich findet man dort sehr viele Bekleidungsgeschäfte von einigen bekannten Marken. Dann gibt es auch noch Haushaltswaren, Parfümgeschäfte und noch vieles mehr. Wenn gerade eine Aktion ist oder wie beim Dubai Shopping Festival dann gibt es immer gute Angebote. Dort kann man dann auch ein Schnäppchen machen. Oft ist es auch so das man die gleichen Geschäfte in einer Shopping Mall findet. Die Preise sind dann auch sehr ähnlich oder sogar gleich wenn es sich um eine Filiale einer großen Marke handelt. Aber ein Bummel durch den Box Park ist immer interessant. Besonders bei Nacht wenn alles schön beleuchtet ist.
Cafes und Restaurants
Im Box Park in Dubai gibt es auch sehr viele gute Restaurants und Cafes. Am Abend füllen diese sich immer sehr schnell. Weiterhin hat man auch die Möglichkeit die Happy Hour auszunutzen. Das heißt man bekommt zu bestimmten Zeiten die gleiche Gerichte zu einem günstigeren Preis. Man findet dort arabische Küche und auch internationale Küche. Aber einen Burger mit Pommes bekommt man dort immer oder eine Pizza. Wenn man in einem arabischen Land Urlaub macht dann bietet es sich immer an auch die heimische Küche auszuprobieren. Viele Touristen haben auch nur Frühstück im Hotel gebucht. Am Abend sind diese dann immer auf der Suche nach einem guten Restaurant. Aber die Preise sind etwas höher wie in einer Mall.
Top 3 Strandhotels in Dubai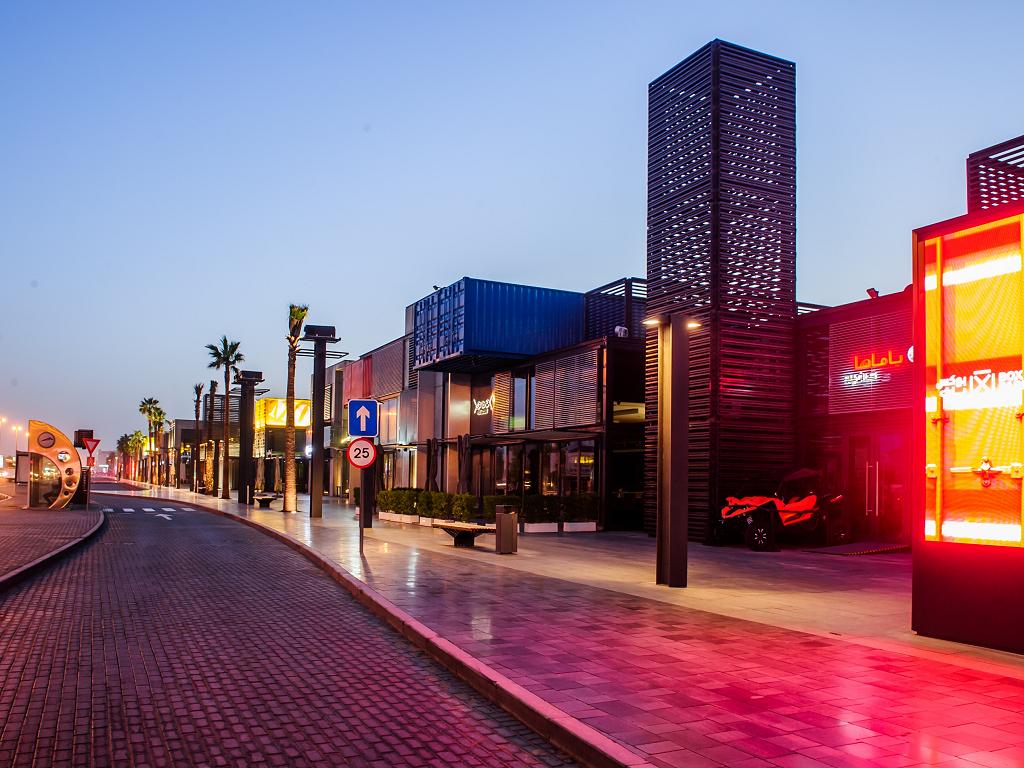 Öffnungszeiten
Die Geschäfte und die Restaurants können unterschiedliche Öffnungszeiten haben. Das sollte man wissen bei einem Besuch des Box Park. Normalerweise haben die Geschäfte zwischen Sonntag bis Mittwoch von 10:00 Uhr bis 22:00 Uhr geöffnet. Etwas längere Öffnungszeiten gibt es immer am Wochenende zwischen Donnerstag bis Samstag. Dann kann man sogar bis 24:00 Uhr shoppen gehen. Allerdings haben die Restaurants die ganze Woche längers geöffnet bis 24:00 Uhr. Denn am Abend kommen immer die meisten Besucher. Unter Tags kann es dann ganz schön warm werden im Freien. Deshalb hat es dann nicht so viele Touristen.
Lage und Adresse der Flaniermeile
Sicherlich möchte man auch wissen wo der Box Park überhaupt ist. Dieser liegt in einem Stadtteil wo sich nicht ganz so viele Sehenswürdigkeiten befinden. Die Lage ist genau an der Al Wasl Road. Vom Burj Khalifa kann man diesen mit dem Taxi sehr schnell erreichen. Es gibt auch Parkplätze wenn man über einen Mietwagen verfügt. Mit der Dubai Metro kommt man dort derzeit noch nicht hin.
Wie sind dort die Preise
Die Preise im Box Park sind ähnlich wie zum Beispiel in der Mall of the Emirates. Wenn es gerade Angebote gibt dann sollte man zugreifen. Wie schon erwähnt sind die Preise in den Restaurants etwas teurer wie bei einem Food Court. Es kann dann schon sein das man für eine Pizza fast 20 Euro bezahlen muß.