Eine der meistfotografierten und beliebtesten Sehenswürdigkeiten von Dubai ist der Dubai Creek. Das ist ein 14 Kilometer langer natürlicher Meeresarm der die Stadt Dubai in zwei Teile teilt, und zwar in Bur Dubai und Deira. Die Breite beträgt zwischen 115 und 1400 Meter. Dazwischen fahren die Abras Wassertaxis mit denen man für ein paar Dirham von der Bur Dubai zur Deira Seite fahren kann. Es gibt auch einige Anbieter die extra Touren für Touristen anbieten und einmal den Creek auf- und abfahren. Den Preis muß man aushandeln.
Lebensader der Stadt
Der Dubai Creek war früher und ist heute noch eine wichtige Lebensader von Dubai. Hier entstanden auch die ersten modernen Wolkenkratzer wie zum Beispiel die National Bank of Dubai oder die Dubai Twin Towers. Hier kann man viele hölzerne Schiffe anschauen, das sind die Dhows die alle möglichen Gegenstände von Dubai aus in die Welt transportieren. Mittlerweile wird der Handel aber überwiegend über den Hafen von Dubai abgewickelt. Aber für Touristen ist dies sehr schön anzuschauen wie die Entwicklung von Dubai einmal angefangen hat. Beobachten Sie einfach einmal wie die Dhows Be- und Entladen werden. Das ist einfach interessant mit welchem Geschick und Gelassenheit die Händler dies durchführen. Besonders am Abend ist der Dubai Creek sehr schön.
Rundfahrten auf dem Dubai Creek
Alles ist beleuchtet und es gibt viele Anbieter die für Touristen Rundfahrten mit einem Abendessen anbieten. Schippern Sie doch einfach einmal den Dubai Creek auf und ab. Dubai City ist immer über den Dubai Creek geteilt. Wer also in einen anderen Stadtteil möchte der muß immer über den Dubai Creek fahren. Entweder mit den Wassertaxis Abras oder mit dem Auto. Dazu gibt es drei verschiedene Brücken die man benutzen kann.
Brücken
Entweder die Al Maktoum Bridge, die Al Garhoud Bridge oder die Business Bay Bridge. Touristen die einen Mietwagen haben sollten beachten das die Brücken immer mehrspurig sind und auch immer sehr befahren sind. Am östlichen Ufer des Dubai Creeks befindet sich der Dubai Creek Golf & Yacht Club. Es gibt also sehr vieles zum anschauen am Dubai Creek. Auch eine der größten Shopping Malls befindet sich in diesem Bereich. Das ist der Deira City Centre. Beliebte Hotels sind das Sheraton Dubai Creek, Park Hyatt Dubai und das Holiday Inn Dubai Creek.
Top 3 Strandhotels in Dubai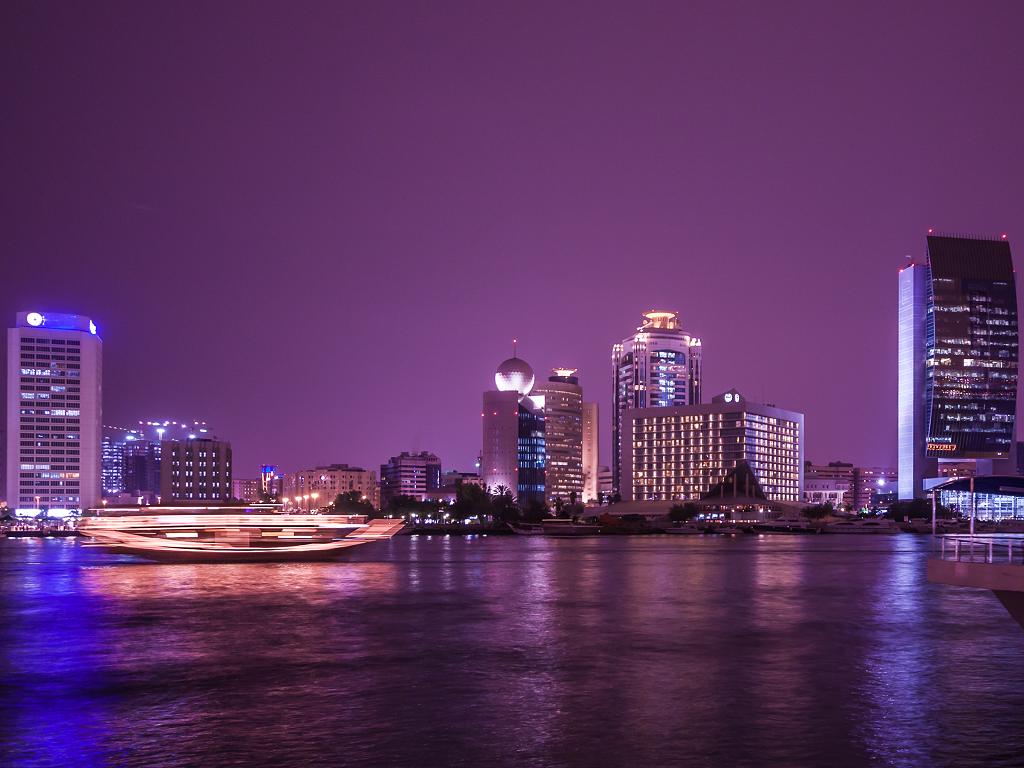 Dubai, Hauptstadt des gleichnamigen Emirates am Persischen Golf, wird vom Dubai Creek in die Stadtteile Bur Dubai und Deira geteilt. Dieser natürliche Meeresarm erstreckt sich über eine Länge von 14 Kilometern bei einer Breite von 115 Metern an der Mündung bis 1400 Meter an seinem Ende. Die ersten Gebäude der Metropole entstanden entlang dieses Meeresarms, der maßgeblich an der Entwicklung der Stadt beteiligt war. Aktuell führen über den Dubai Creek drei Brücken, unterirdisch verbindet ein Tunnel die beiden Stadtteile.
Abras
Alternativ dazu ermöglichen die traditionellen Wassertaxis aus Holz, auch Abra genannt, die Überquerung. In ihnen lassen sich auch zahlreiche Sehenswürdigkeiten erkunden. Um den Creek besser nutzbar zu machen, wird seit einigen Jahren an einer Verlängerung gebaut, dessen Ende wieder in den Persischen Golf mündet. Weitere Projekte entlang des Meeresarmes sind "The Lagoons", eine mit Kanälen und Lagunen angelegter Bereich, der die Wasserfläche vergrößert, das "Culture Village", die "Business Bay", welche ein gemischter Büro- und Wohnkomplexe sind, und das "Jewel of the Creek", ein kleines Bauprojekt, in dem ebenfalls Büros untergebracht werden.