Eine beeindruckende Aussicht hat man von der Aussichtsplattform At the Top Burj Khalifa SKY. Diese befindet sich auf einer Höhe von 555,70 Metern und hier kann man sich das Ticket kaufen.
Was ist At the Top Burj Khalifa SKY
Für Besucher des höchsten Gebäudes der Welt zu wissen ist das es zwei verschiedene Aussichtsplattformen gibt die man sich anschauen kann. Die erste nennt sich At the Top und befindet sich auf einer Höhe von 452,10 Metern. In der Regel ist dort der Ausblick schon sehr beeindruckend. Aber wem dies nicht reicht und man noch höher hinauf möchte dann gibt es noch eine andere. Diese nennt sich At the Top Burj Khalifa SKY die noch deutlich höher ist mit 555,70 Metern. Also um über 100 Meter ist diese noch höher und das ist schon beeindruckend da der Burj Khalifa eine Höhe von 828 Metern hat. Das sind schon beeindruckende Zahlen. Erst wenn man von oben nach unten blickt dann wird man sehr schnell erkennen wie hoch man sich eigentlich befindet.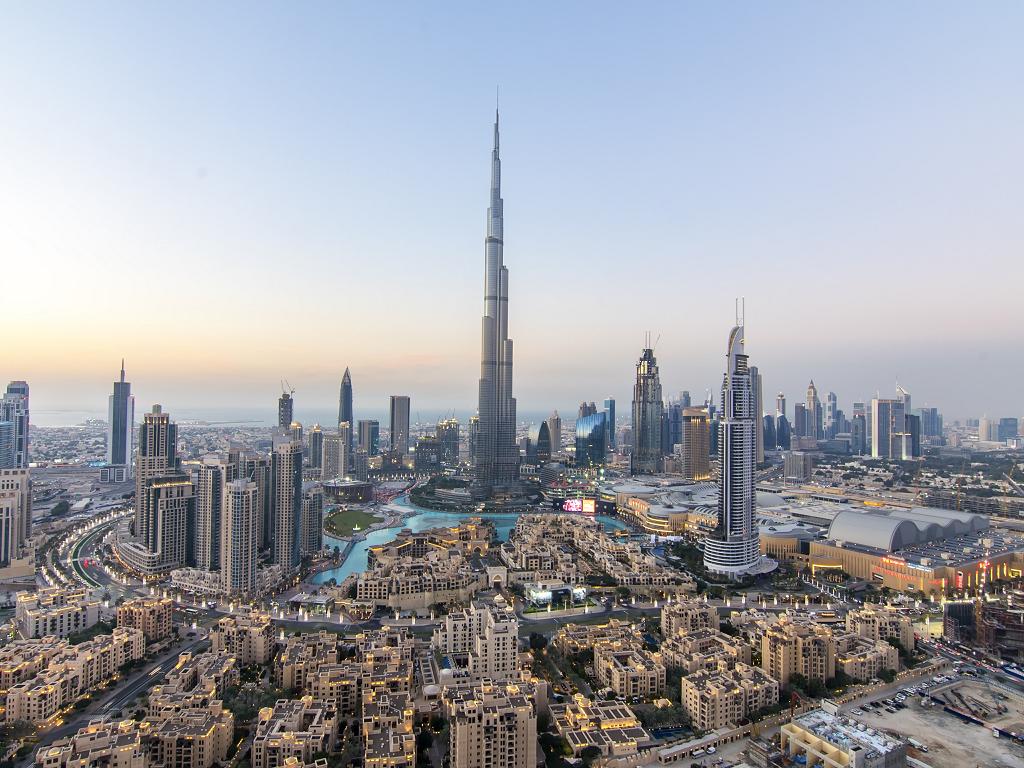 Wieviel muß man dort für ein Ticket bezahlen
Selbstverständlich muß man für den Besuch der höheren Aussichtsplattform At the Top Burj Khalifa SKY etwas mehr Geld dafür ausgeben. Im Prinzip muß das aber jeder Tourist selber entscheiden ob er den Aufpreis bezahlen möchte oder nicht. Nach unserer Meinung sind beide Aussichten sehr gut und es lohnt sich dafür Geld auszugeben. Wie bei der anderen Aussichtsplattform muß man sich für Non Prime Hours oder Prime Hours entscheiden. Das heißt der Preis richtet sich immer nach der Uhrzeit. Zum Beispiel sind die Non Prime Hours zwischen 19:00 Uhr bis 24:00 Uhr. Dort ist es dann schon dunkel und man kann keine so schönen Fotos mehr machen. Das Ticket für Erwachsene Personen kostet dort 370 Dirham ( 87 Euro ). Die Prime Hours sind von 9:30 Uhr bis 18:00 Uhr. Als Besucher muß man dann 525 Dirham ( 123 Euro ) ausgeben.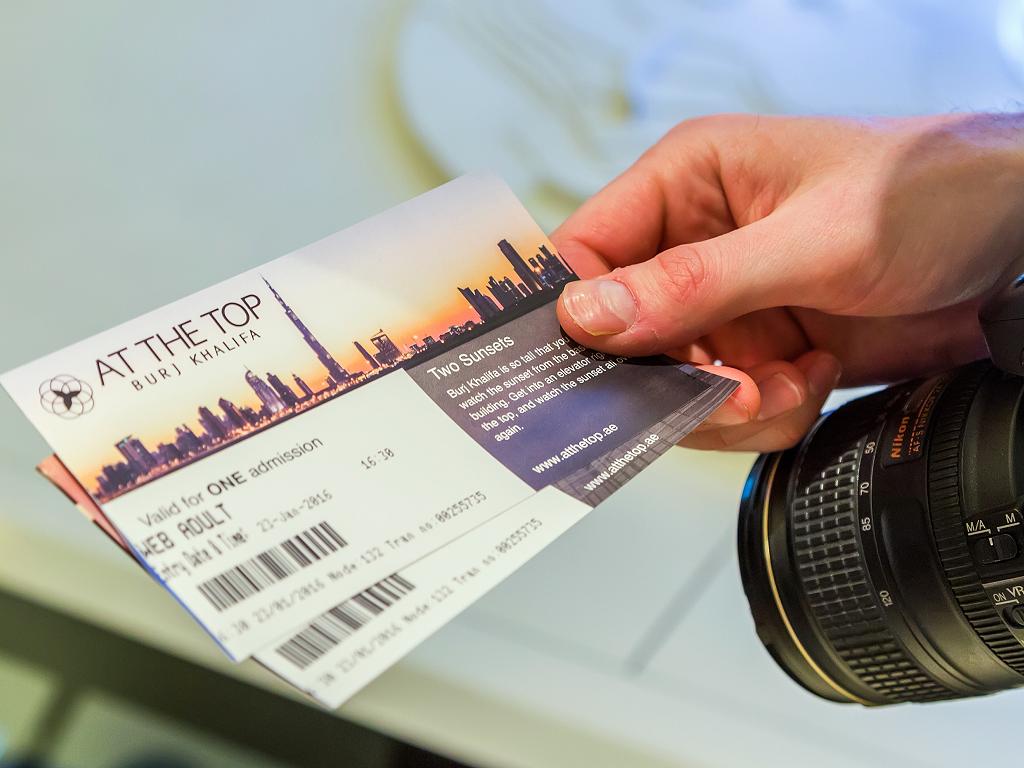 Vorteile von der höheren Aussichtsplattform
Wenn man schon mehr bezahlen muß für das Ticket dann bekommt man nicht nur eine bessere Aussicht sondern hat auch noch andere Vorteile. Bei dem Kauf für ein Ticket von At the Top Burj Khalifa SKY darf man einen separaten Aufzug benutzen. Das heißt man muß überhaupt nicht lange warten und schon ist man oben angelangt. Wenn man dann dort oben angekommen ist dann bekommt man sofort Snacks und kühle Getränke serviert. Somit macht dort ein Besuch doppelt so viel Spaß. Allerdings muß man auch mehr Geld dafür ausgeben.
Top 3 Strandhotels in Dubai
Sicherheitskontrollen
Damit man überhaupt At the Top Burj Khalifa SKY besuchen kann muß man durch eine Sicherheitskontrolle gehen. Diese ist ähnlich wie an einem Flughafen und es wird kontrolliert ob man verbotene Gegenstände bei sich hat. Aber einen Foto, Videokamera oder ein Smartphone darf man dort auf jeden Fall mitnehmen und das ist kein Problem. Allerdings sollte man immer darauf achten das man nichts verbotenes in der Handtasche hat. Denn dann darf man die Aussichtsplattform nicht besuchen und man wird wieder abgewiesen.
Außenterrasse vom Burj Khalifa
Natürlich gibt es dort auch eine schöne Außenterrasse wo man schöne Fotos machen kann. Wie schon erwähnt ist diese um über 100 Meter nochmals höher. Aber alles ist gut gesichert damit man dort nicht herunterspringen kann. Man braucht sich dort keine Sorgen zu machen wegen der Sicherheit. Es gibt viele Glasscheiben und immer wieder ein paar Öffnungen wo man den Foto durchhalten kann. Wir empfehlen immer bei Dämmerung dort Fotos zu machen. Von dort oben kann man auch die Dubai Fountains wunderbar erkennen oder die Dubai Mall.
Wann sind die Öffnungszeiten
Wenn man sich At the Top Burj Khalifa SKY anschauen möchte dann muß man sich auch an die Öffnungszeiten halten. Diese sind täglich von 9:30 Uhr bis 24:00 Uhr. Wie schon erwähnt wird beim Ticket unterschieden ob es sich um Non Prime Hours oder Prime Hours handelt. Wenn man gerne Fotos machen möchte dann sollte man sich für einen Besuch am Abend entscheiden. Besonders über die Wintermonate ist die Sicht immer sehr klar. In den Monaten im Sommer kann es sehr verschwommen sein.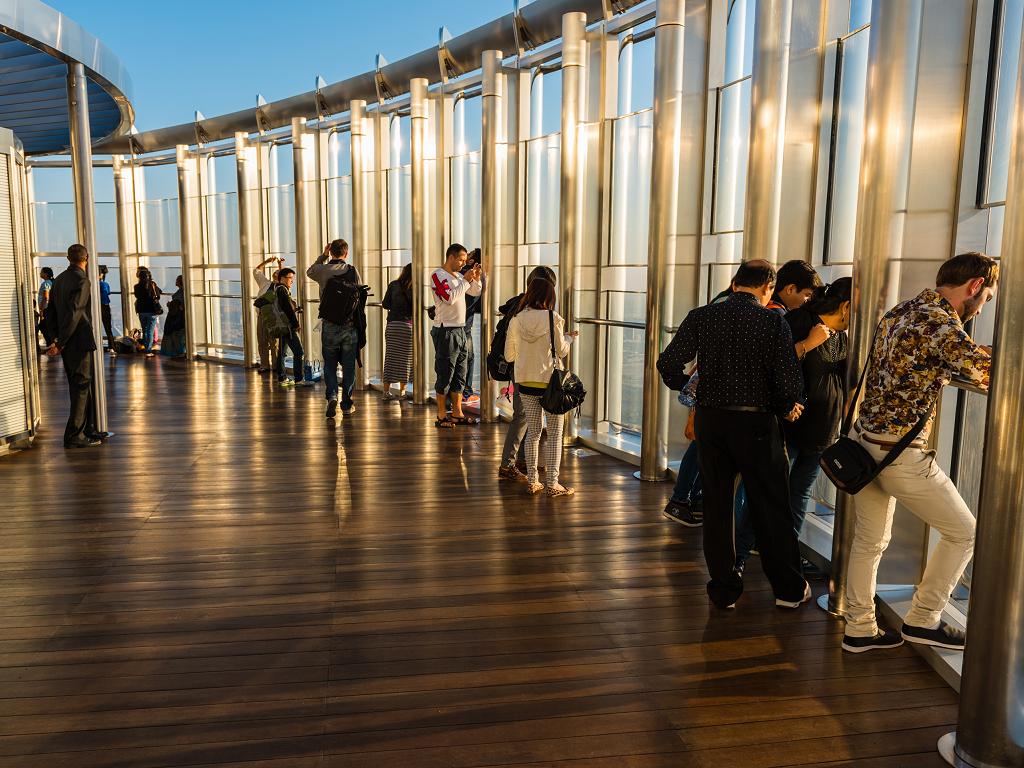 Lage und Adresse
Sehr wichtig ist natürlich auch das man den Eingang überhaupt findet. Denn dieser befindet sich nicht im Burj Khalifa, sondern bei der Dubai Mall in der untersten Etage. Am besten ist es wenn man mit der Dubai Metro zum Einkaufszentrum fährt. Von dort aus muß man allerdings schon noch einige Meter gehen bis man dort ist.
Wie lange darf man sich dort aufhalten
Bei At the Top Burj Khalifa SKY darf man sich maximal 60 Minuten aufhalten. Das heißt wenn man ein Ticket hat zum Beispiel für 17:00 Uhr dann darf man bis 18:00 Uhr bleiben. Bei der unteren Aussichtsplattform darf man nur 30 Minuten bleiben. Aber die Zeit ist ausreichend um gute Fotos zu machen. Dann gibt es noch einen Souvenirshop wo man sich eine Erinnerung an den Besuch kaufen kann