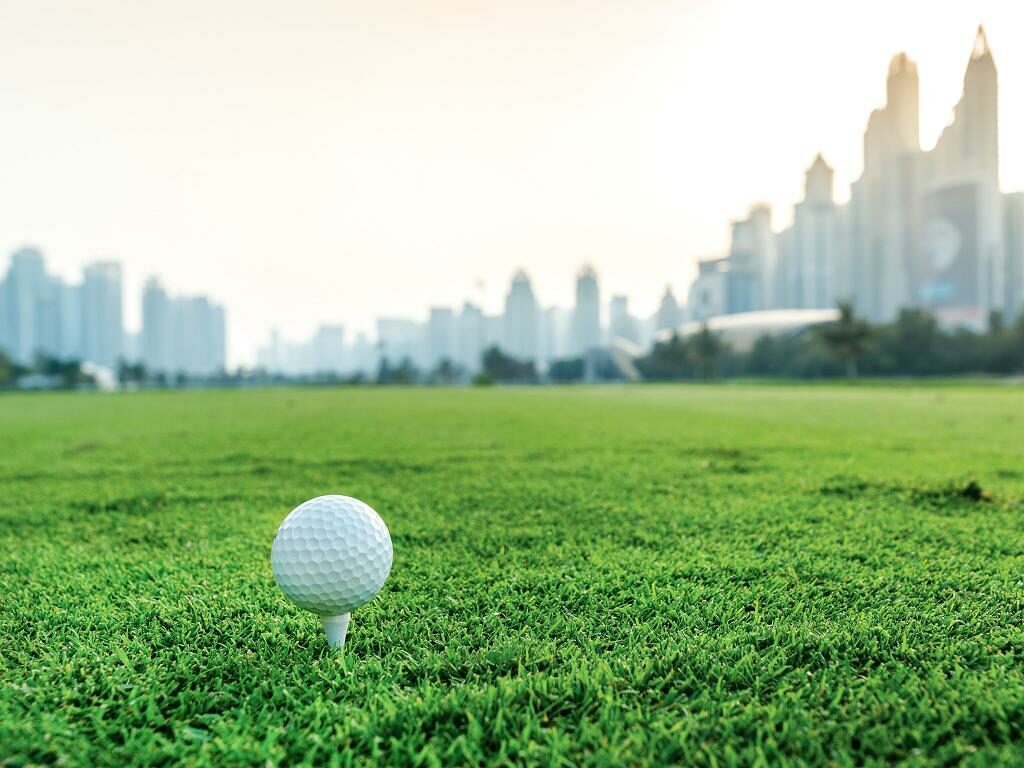 Das Jumeirah Golf Estates hat erheblich dazu beigetragen, dass das Emirat Dubai seit einigen Jahren zu einer Golfdestination von Weltruf geworden ist. Die Golfanlage mit insgesamt vier 18-Loch-Championship-Plätzen, ist das "Feinste vom Feinsten", was die Emirate an Golfsport zu bieten haben. Der weltberühmte Golfprofi Greg Norman hat den Earth-Course entworfen, auf dem in jedem Jahr der "Dubai World Championship" mit dem gleichzeitigen Finale der European Tour ausgetragen wird. Das Finale des "Race to Dubai" mit einem Preisgeld von acht Millionen Dollar, wird in den Wintermonaten ausgetragen und ist damit eines der höchstdotierten Golfturniere der Welt.
Earth Course
Der Earth Course ist in jedem Jahr immer ein würdiger Abschluss der Saison in einer herrlichen Landschaft. Im Jahre 2009 wurde der Kurs eröffnet und mit seinen großen Bunkern, gewellten Fairways und strategisch eingeplanten Wasserhindernissen, ist der Platz selbst für Profis eine große Herausforderung. "Fire" ist der zweite von Norman entworfene Kurs. Dieser steht dem "Earth-Kurs" in keiner Weise etwas nach. Allerdings ist der Par-72-Kurs etwa 200 Meter kürzer und bekam seinen Namen von dem roten Sand, mit dem die Bunker gefüllt sind. Die Bunker haben eine außerordentlich große Innenfläche. Und wenn der Golfer auf den Jumeirah-Kursen kein präzises Spiel tätigt, wird er des öfteren das Sand Wedge benutzen müssen. Immer wieder werden die Golfer und Zuschauer von dem beeindruckenden Farbenspiel der beiden Plätze fasziniert.
Beeindruckender Golfplatz
Die Bahnen mit dem satten Grün, werden mit Wasser und den Bunkern sowie rotem Sand unterbrochen. Und zaubern dabei eine Harmonie der Farben in einer prächtigen Landschaft. Golfexperten aus aller Welt sind davon überzeugt, dass der Südafrikaner Ernie Els mit der Planung und Fertigstellung des "Championship Parcours", an der Emirates Road zwischen dem Airport Dubai und Jumeirah, einen grandiosen Golfplatz geschaffen hat. Nach seiner Fertigstellung im Jahre 2008 wurde der Parcours "The Els Golf Club" bei einem Wettbewerb als bester Neuling unter den Championship Courses gewählt. Der Golfplatz hat eine Länge von 6893 Metern, schwarze Teets mit Par 72 und zwei Seen, die künstlich angelegt wurden. Durch die schneeweißen Sandbunker, grünen "Fairways" und den Sanddünen, ensteht ein schöner Kontrast auf dem gesamten Parcours.
Ernie Els
Ernie Els hat nicht nur den anspruchsvollen Parcours konzipiert. Sondern es gelang ihm auch, den amerikanischen Trainer Claude Harmon III. zu gewinnen. Der nun in Dubai die erste "Butch Harmon Schools of Golf" außerhalb der Vereinigten Staaten leitet und den Golfer Immelmann trainierte. Im Laufe der Jahre hat sich in "Dubai Sports City" ein Ausbildungszentrum hohen Niveaus entwickelt. Jedem Golfer steht ein Golf-Butler zur Verfügung. Der den Golfer zur Umkleide begleitet und für die Verladung des Sportgeräts verantwortlich zeichnet. Außer verschiedenen Einrichtungen stehen den Gästen ein Restaurant und eine Bar zur Verfügung.
Top 3 Strandhotels in Dubai
Verhaltensregeln
Im "The Els Golf Club" sind Gäste nach einer entsprechenden Voranmeldung jederzeit willkommen. Der Golfplatz darf nur mit Softspikes betreten und bespielt werden. Die golftypische Kleiderordnung ist unbedingt einzuhalten und die Oberbekleidung muss mit einem Kragen versehen sein. Längere Hosen und Golfshorts sind erlaubt, allerdings keine Jeans. Es wird empfohlen, eine entsprechende Kopfbedeckung mitzuführen, das es auf dem Parcours nur wenig Schatten gibt.