Im Atlantis The Palm Hotel in Dubai gibt es die Attraktion Dolphin Bay wo man mit Delfinen schwimmen kann. Was diese genau kostet und welche Voraussetzungen es gibt erfährt man hier. Für Kinder ist dies natürlich ein Erlebnis das man nicht so schnell vergisst.
Informationen zu Dolphin Bay
Viele Touristen möchten im Dubai Urlaub immer etwas außergewöhnliches machen. Das ist in der Dolphin Bay natürlich möglich und bestimmt hat man schon einmal davon gehört wie schön es sein muß mit Delfinen zu schwimmen. Weiterhin ist auch sehr interessant zu Wissen daß diese Tiere einen Einfluß auf die Menschen haben. Besonders bei Krankheiten sollen diese eine heilende Wirkung haben. Aber selbstverständlich wird man dort auch viel Spaß haben wenn man kerngesund ist. Es ist ein außergewöhnliches Erlebnis das man im Dubai Urlaub machen kann. Zum Beispiel ist dies in Florida auch möglich und dort wird dies auch gerne gemacht von den Touristen.
Öffnungszeiten für Besucher
Es gibt auch Öffnungszeiten für die Dolphin Bay und sicherlich kann man sich vorstellen das die Delfine sehr empfindlich sind und man nur immer zu einer bestimmten Zeit dort mit diesen schwimmen kann. Man muß sich deshalb vorher anmelden beim Atlantis The Palm Hotel und einen Zeitpunkt festlegen. Weiterhin muß man wissen das die Nachfrage bei dieser Attraktion sehr hoch ist. Das heißt es gibt noch viele weitere Touristen die gerne mit den Delfinen schwimmen möchten. Es kann durchaus sein das man je nach Jahreszeit immer mit einer Wartezeit rechnen muß. Deshalb sollte man das Ticket schon vor der Reise frühzeitig buchen. Ansonsten kann es sein das man nicht die Möglichkeit hat mit diesen zu schwimmen.
Wieviel kostet ein Ticket in der Dolphin Bay
Wie schon erwähnt benötigt man dort ein Ticket und man bezahlt dort ungefähr 845 Dirham ( 186 Euro ) für ein Standard Ticket. Dieses beinhaltet außerdem noch den Eintritt in das Aquarium Lost Chambers. Allerdings muß man dann mit einer Gruppe von ungefähr 10 Personen mit einem Delfin schwimmen. Somit hat man dann nicht immer die Möglichkeit das man einen Delfin für sich allein hat. Wer gerne aber nicht in einer Gruppe die Dolphin Bay besuchen möchte und einen Delfin für sich allein haben möchte kann ein privates Ticket buchen. Allerdings ist dieses dann wieder teurer. Nähere Informationen erhält man in unserem Dubai Ausflüge Shop wo man dieses auch buchen kann.
Top 3 Strandhotels in Dubai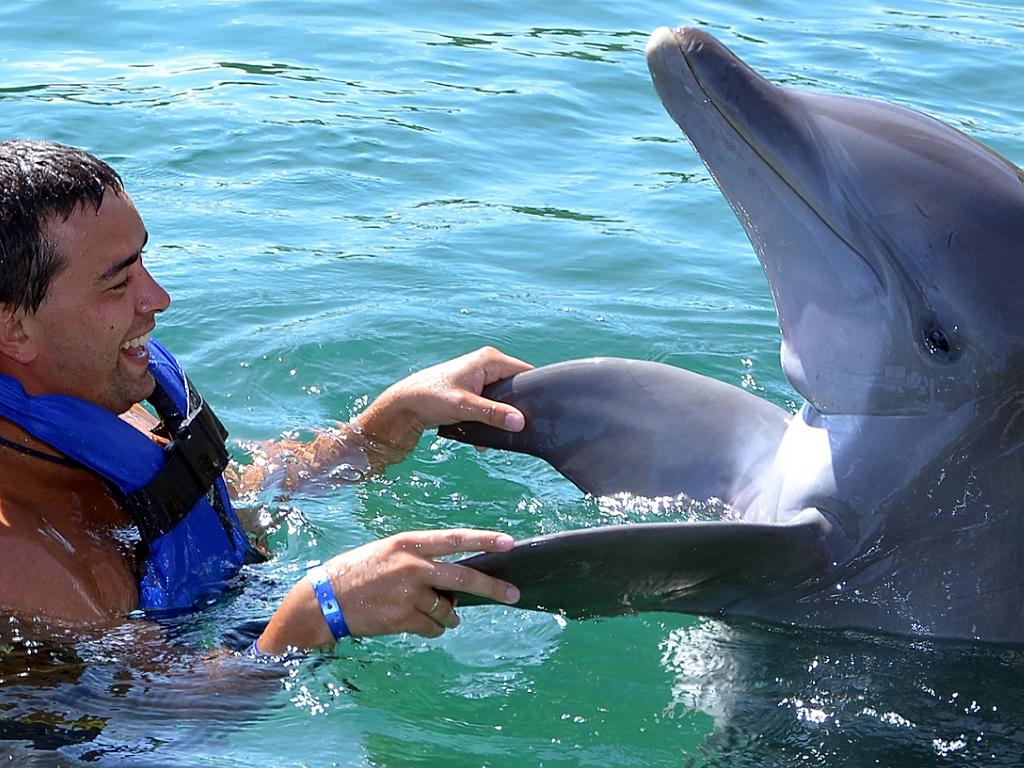 Wie alt muß man sein um mit den Delfinen schwimmen zu dürfen
Damit man überhaupt in der Dolphin Bay mit den Delfinen schwimmen darf muß man mindestens 12 Jahre alt sein. Wenn man dies nicht ist benötigt man eine Begleitperson und diese benötigt dann auch ein Ticket. Somit wird das ganze dann etwas teuer. Aber sicherlich gefällt dies auch der Mutter oder Vater und diese wird dann auch begeistert sein. Selbstverständlich kann man auch eine andere Person mitbringen.
Ist die Zeit begrenzt für Besucher
Bestimmt kann man sich vorstellen das es für einen Delfin auch sehr anstrengend ist wenn ständig neue Touristen kommen. Deshalb ist die maximale Dauer in der Dolphin Bay auf 30 Minuten begrenzt. Danach muß der Delfin wieder eine Pause machen. Wenn man dort längers bleiben möchte dann kann man ein neues Ticket zu einer anderen Uhrzeit kaufen. Aber normalerweise sind 30 Minuten ausreichend für den Delfin und Besucher.
Muß man dort etwas mitbringen
Als Besucher braucht man dort seine Badehose, Badeanzug oder Bikini mitbringen. Alles andere wird gestellt und man braucht sich keine Gedanken zu machen. Weiterhin bekommt man einen kostenlosen Schwimmanzug zur Verfügung gestellt der auch vor einem Sonnenbrand schützt. Denn man darf sich vorher mit keiner Sonnencreme einschmieren. Diese ist dann auch im Wasser und das könnte dem Delfine schaden in der Dolphin Bay. Man bekommt aber vorher immer eine genaue Anweisung wie man sich verhalten muß.