Ein schönes Stadthotel in Dubai ist das Sofitel Dubai The Obelisk. Praktisch ist die direkte Verbindung mit dem Einkaufszentrum Wafi Mall. Von dort aus kann man wunderbar die Stadt erkunden. Das ist unsere Hotelbewertung.
Sofitel Dubai The Obelisk Hotelbewertung
Als Tourist hat man die Auswahl von vielen schönen Stadthotels die man buchen kann wie zum Beispiel das Jumeirah Emirates Towers. Wir haben nun einmal das Sofitel Dubai The Obelisk getestet und waren sehr überrascht. Es ist ein fünf Sterne Luxushotel mit einer sehr guten Lage wo man viele Dubai Sehenswürdigkeiten schnell erreichen kann.
Das ist auf jeden Fall einmal sehr praktisch. Aber es handelt sich um einen spektakulären Hoteltower und diesen kann man schon von weitem erkennen was ein Vorteil ist. Besonders bei Nacht wird dieser schön beleuchtet was uns sehr gefallen hat. In diesem Beitrag erfährt man nun alles über das Hotel und warum es für einen Stopover auf jeden Fall zu empfehlen ist.
Hotelkategorie:
5 Sterne

Anzahl der Zimmer und Suiten:
498 Zimmer
97 Apartments
Adresse und Lage
Wie schon erwähnt hat das Sofitel Dubai The Obelisk eine gute Lage um die Stadt zu erkunden. Es ist ein Stadthotel wo man aber den Strand auch schnell erreichen kann. Die Entfernung vom Dubai International Airport beträgt nur sieben Kilometer und somit hat man einen kurzen Flughafentransfer von zehn Minuten. Also ist man schnell im Hotel und das ist sehr praktisch.
Top 3 Strandhotels in Dubai
Genaue Adresse:
Wafi
Sheikh Rashid Rd
Umm Hurair 2
Dubai
Vereinigte Arabische Emirate

Entfernung vom Flughafen:
7 Kilometer ( 10 Minuten )

Welches Verkehrsmittel sollte man nutzen:
Taxi

Was ist in der Nähe:
Wafi Mall ( 200 Meter )
Dubai Creek ( 1,9 Kilometer )
Dubai Frame ( 3,5 Kilometer )
Festival City ( 7,5 Kilometer )
The Dubai Mall ( 8,0 Kilometer )
Burj Khalifa ( 8,5 Kilometer )
Zimmer und Suiten
Bei unserem Aufenthalt im Sofitel Dubai The Obelisk haben wir einen Luxury Room bekommen mit einer Größe von rund 60 Quadratmeter. In diesem Zimmer hatte man auf jeden Fall sehr viel Platz. Besonders schön ist das große Badezimmer. Aber es gibt noch größere Zimmer und Suiten in diesem Hotel. Nach unserer Meinung sind diese aber völlig ausreichend für zum Beispiel eine Städtereise.
Das sind die Zimmerkategorien:
Deluxe Room ( 45 Quadratmeter )
Luxury Room ( 60 Quadratmeter )
Family Room ( 90 Quadratmeter )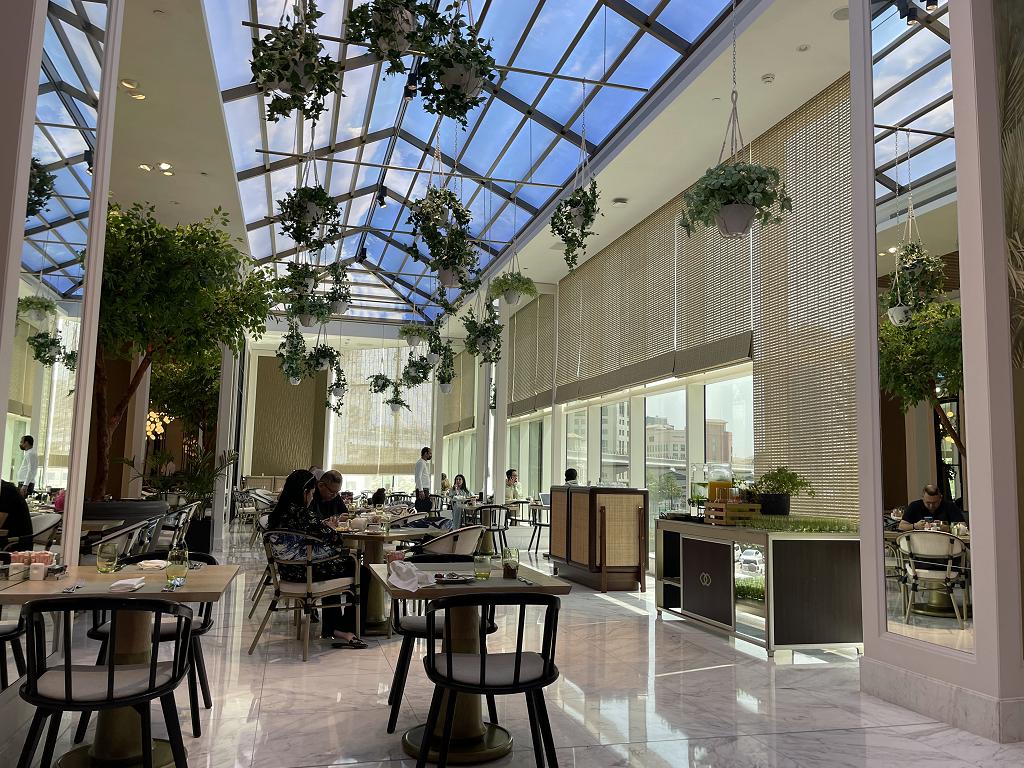 Gastronomie und Verpflegung
Wer dieses Hotel bucht sollte auf jeden Fall das Frühstück dazubuchen. Man kann sich dann jeden Morgen am großen Frühstücksbuffet bedienen. Wenn man sich zum Beispiel ein Omelette oder ein Egg Benedict bestellt dann muß man nicht einmal den Tisch verlassen. Dieses kann man direkt bestellen und es wird an den Tisch gebracht. Da es sich um eine französische Hotelkette handelt gibt es dort auch zahlreiche Produkte aus Frankreich.
Welche Verpflegung sollte man dort buchen:
Mindestens das Frühstück

Kann man dort ein Omelette bestellen:
Ja, das ist möglich
Es gibt einen schönen Poolbereich
Normalerweise haben die Stadthotels in Dubai einen kleineren Pool als ein Strandhotel. Aber beim Sofitel Dubai The Obelisk ist dieser sehr groß und man kann sich dort wunderbar erholen. Aber am Wochenende ist dort immer viel los und es gibt deutlich mehr Besucher. Es gibt viele die sich dann eine Cabana mieten und dort einen schönen Tag am Pool verbringen.
Kann man dort einen Cocktail bestellen:
Ja, das ist möglich

Gibt es auch eine Cabana:
Ja, gegen Gebühr
Praktisch ist der direkte Zugang zur Wafi Mall
Sicherlich auch ein großer Vorteil warum man das Sofitel Dubai The Obelisk buchen sollte ist der direkte Zugang zur Wafi Mall. Das heißt das Einkaufszentrum ist direkt mit dem Hotel verbunden. Weiterhin gibt es dort noch einen großen Supermarkt ( Carrefour ) wo man sich Getränke kaufen kann. Das ist auch sehr praktisch und somit braucht man gar nicht weit gehen.
Wo befindet sich die Wafi Mall:
Gleich daneben
Tolle Aussicht vom Club Millésime
Wenn man einen Club Room bucht dann hat man auch einen Zugang zum Club Millésime im 51. Stockwerk vom Hotel. Dort kann man dann auch das Frühstück genießen mit einer tollen Aussicht. Man kann von dort oben sehr weit blicken. Man kann fast in alle Bereiche blicken und das ist sehr schön. Wir empfehlen dort immer Fotos zu machen. So eine Aussicht hat man nicht von jeder Aussichtsplattform in Dubai.
Wo befindet sich dieser Club:
Im 51. Stockwerk

Wer hat dort Zugang:
Hotelgäste in der Kategorie Club Room
Unsere Meinung
Das Sofitel Dubai The Obelisk hat uns auf jeden Fall überzeugt und gerne buchen wir dieses Luxushotel wieder. Die Zimmer sind sehr groß und auch luxuriös. Weiterhin hat man schon von den Zimmern einen tollen Blick. Noch besser ist dieser vom Club Millésime. Dort kann man dann schon von spektakulär sprechen. Die Lage vom Hotel ist auch sehr gut und man kann vieles schnell erreichen.