Besonders am Abend interessant für einen Bummel sind die Dubai Flaniermeilen. Man findet dort Geschäfte und Restaurants wo man den Tag ausklingen lassen kann. In der Stadt gibt es mittlerweile sehr viele und hier stellen wird die besten vor.
Das sind die besten Dubai Flaniermeilen in der Stadt
Shopping in Dubai ist bei den Touristen natürlich sehr beliebt. Besonders wenn man dies dann noch unter freiem Himmel machen kann bei angenehmen Temperaturen. Deshalb sind in den letzten Jahren die Dubai Flaniermeilen entstanden wo man dies machen kann. Das ist wie mit einer Fußgängerzone in Deutschland zu vergleichen nur das in Dubai die Temperatur deutlich angenehmer ist. Am Abend noch mit T-Shirt und kurzer Hose einen Einkaufsbummel zu machen ist dort möglich. Hier stellen wir nun die beliebtesten vor die man nicht verpassen sollte.
The Walk at Jumeirah Beach Residence
Angefangen hat einmal alles mit dem The Walk at Jumeirah Beach Residence. Im Prinzip war dieser einer der ersten Dubai Flaniermeilen. Das Konzept wurden von den Touristen so gut angenommen das noch weitere entstanden sind. Weiterhin ist dort die Lage sicherlich sensationell wo es viele Hotels in der Nähe gibt wo Urlauber übernachten können. Zum Strand ist es auch nicht sehr weit und zur Dubai Marina. Man findet dort zahlreiche gute Restaurants und auch Geschäfte. Besonders wenn man ein Hotel gebucht hat mit nur Frühstück dann kann man dort zu Abend essen.
City Walk Dubai
Ein weiteres Highlight unter den Dubai Flaniermeilen ist der City Walk Dubai. Dieser befindet sich in der Nähe vom Burj Khalifa und ist von dort aus schnell zu erreichen mit dem Taxi. Man findet dort auch zahlreiche Geschäfte, Restaurants und Cafes. Am Abend gibt es dort noch eine Show die man sich anschauen kann. Viele bekannte Marken sind dort zu finden. Besonders zu empfehlen ist dort ein Besuch am Abend wenn alles beleuchtet ist. Von dort aus hat man auch einen tollen Blick auf das höchste Gebäude der Welt. Gleich in der Nähe befindet sich auch noch die Attraktion The Green Planet die man sich auch anschauen kann.
Top 3 Strandhotels in Dubai
The Beach Dubai
In bester Lage direkt am Jumeirah Beach Strand befindet sich The Beach und das ist sicherlich eine der meistbesuchten Dubai Flaniermeilen in der Stadt. Besonders beliebt bei Touristen ist dort am Abend ein Restaurant zu besuchen mit Meerblick. Von dort aus hat man auch einen tollen Blick auf das Riesenrad auf der Insel Bluewaters Island. Zahlreiche Hotels befinden sich dort auch in der Nähe und von dort aus kann man vieles zu Fuß erreichen. Die Promenade ist dort sehr schön gemacht und als Tourist wird man sich dort sehr schnell wohlfühlen. Wenn man dort ein Hotel gebucht hat dann ist man in wenigen Minuten wieder auf dem Hotelzimmer. Dort ist sicherlich die Lage einzigartig.
Al Seef Dubai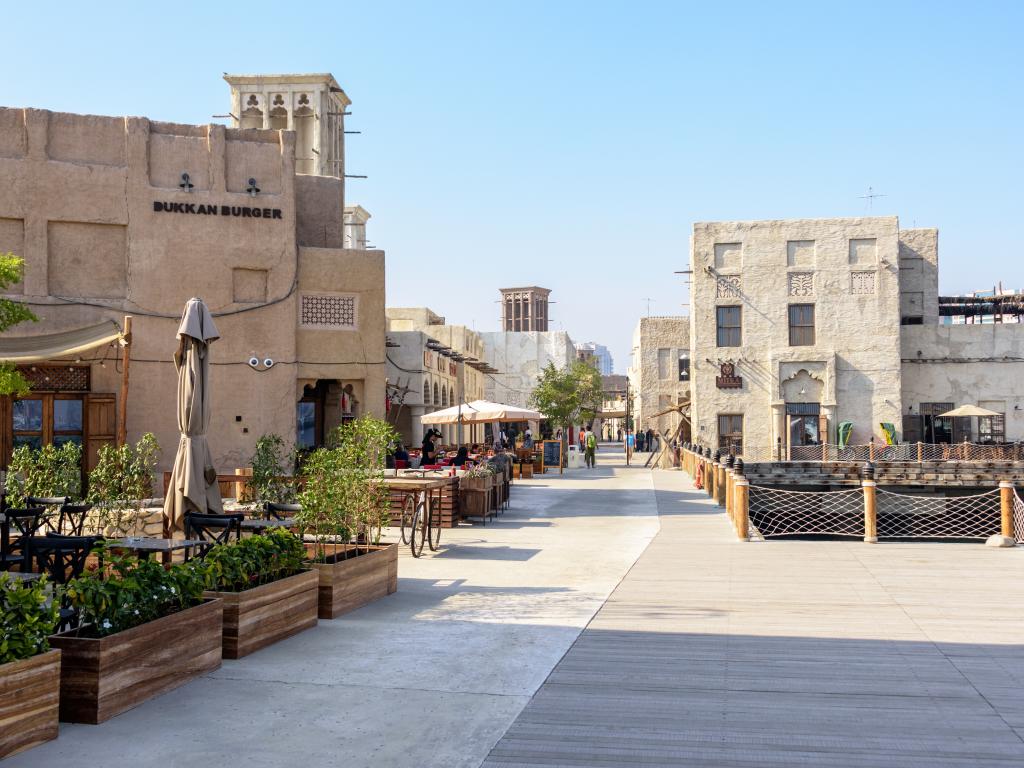 Direkt am Dubai Creek befindet sich Al Seef Dubai. Man bekommt dort eine Mischung aus arabischer Architektur und moderne als Besucher zu Gesicht. Auf den ersten Blick sehen die Gebäude schon etwas älters aus. Aber diese sind alle neu gemacht worden mit der traditionellen arabischen Bauweise. So stellt man sich als Tourist das Emirat Dubai vor. Genau das kann man dort erleben. Sicherlich für Touristen ist dies auch eine der schönsten Dubai Flaniermeilen die man nicht verpassen sollte anzuschauen. Am Abend werden dort auch Rundfahrten auf dem Creek angeboten die man machen kann. Viele Geschäfte und Restaurants hat man zur Auswahl. Weiterhin auch zahlreiche Souvenirshops wo man sich eine Erinnerung an den Dubai Urlaub kaufen kann.
La Mer Dubai
Auch direkt am Jumeirah Beach Strand liegt La Mer Dubai. Weiterhin gibt es dort noch einen sehr schönen öffentlichen Strand den man nutzen kann. Zur Anlage gehört noch ein Wasserpark der sich Laguna Waterpark nennt. Man findet dort rund 130 Geschäfte und Restaurants und für einen Besuch sollte man ausreichend Zeit einplanen da es sehr groß ist. Es gibt viele Hotels die dort einen kostenlosen Shuttlebus anbieten den man nutzen sollte. Viele Luxushotels befinden sich auch in der Nähe wo man übernachten kann. Im Prinzip sind aber alle Dubai Flaniermeilen ähnlich aufgebaut. Aber das Konzept ist super gemacht worden und für einen Bummel am Abend immer zu empfehlen.
Box Park Dubai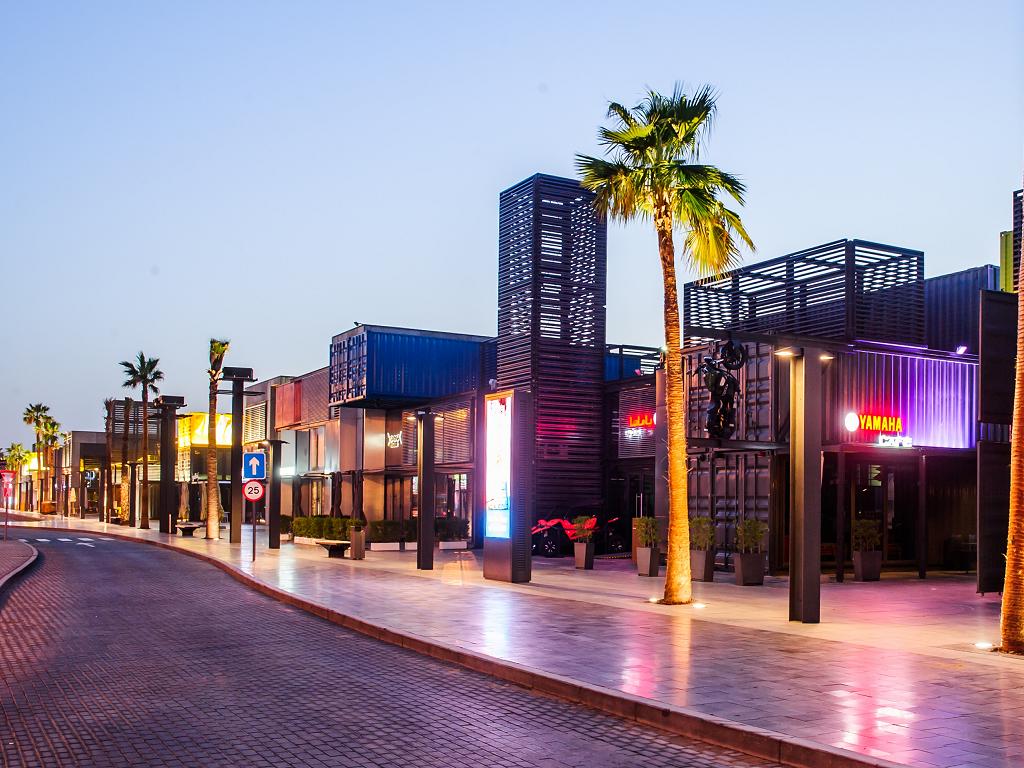 Für einen Besuch sicherlich auch sehr interessant ist der Box Park Dubai. Die Geschäfte dort sehen aus wie Container und man wird sich dort auch sehr schnell zurechtfinden. Wie bei den anderen Dubai Flaniermeilen findet man dort viele Geschäfte, Restaurants und auch Cafes. Die Lage dort ist nicht ganz so gut und man sollte sich mit dem Taxi dorthin fahren lassen. In der Stadt gibt es noch weitere solcher Flaniermeilen und das ist nur eine Auswahl. Aber wenn man diese sich alle angeschaut hat dann wird man schon begeistert sein da diese die schönsten sind. Diese Flaniermeilen sind sicherlich eine gute Alternative zu den Shopping Malls. Denn dort kann man sich immer im Freien bewegen bei angenehmen Temperaturen die es am Abend in Dubai gibt.