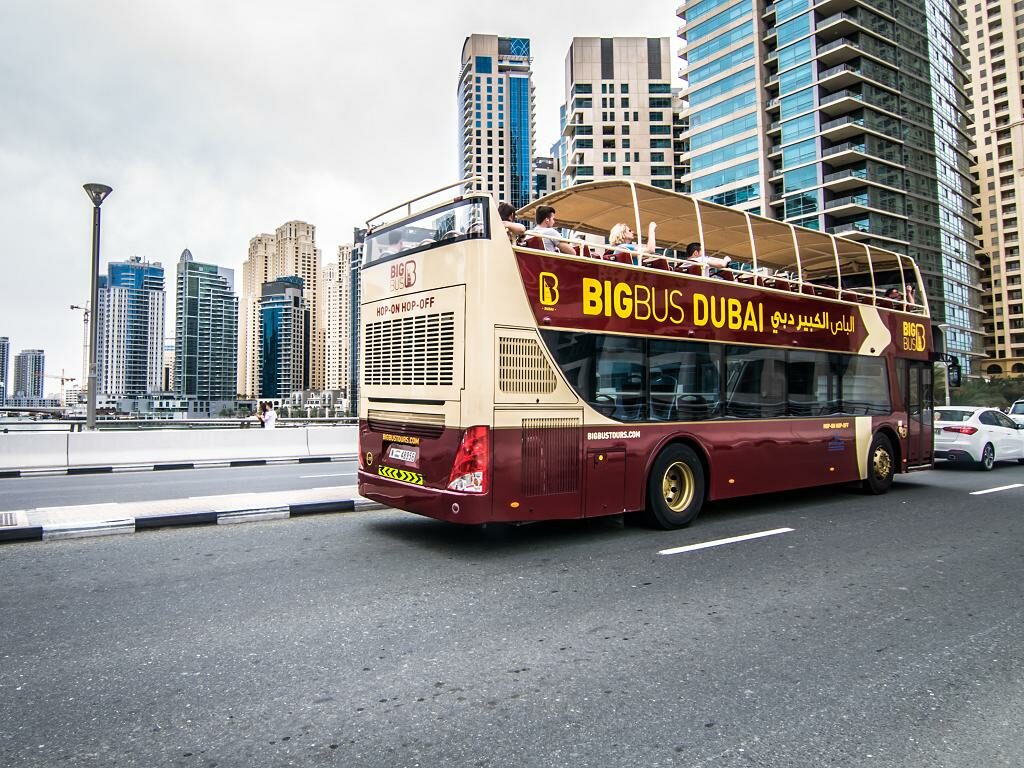 Eine sehr gute Möglichkeit Dubai kennenzulernen ist mit Big Bus Tours wo man mit einem offenen Doppeldeckerbus die Stadt abfährt. Wer sich die verschiedenen Seiten von Dubai so genau wie nur möglich zu Gemüte führen möchte. Der ist sehr gut beraten, für diesen Zweck auch auf Big Bus Tours Dubai zurückzugreifen. Dieser Anbieter macht es dank einem sehr breiten Netz an unterschiedlichen Touren sehr gut möglich, die gewünschten Ziele mit dem Transport zu erreichen. Gleichzeitig ist es im Bus selbst möglich, mithilfe eines Audio Guides an die passenden Informationen zu den Bauwerken und Sehenswürdigkeiten zu kommen. Die der Bus in genau diesem Moment passiert.
Audio Guides in Deutscher Sprache
Diese Aufnahmen sind dabei sogar in zwölf unterschiedlichen Sprachen verfügbar. Sodass es am Ende des Tages nicht sonderlich schwer fallen sollte, eine passende Ausführung für sich selbst zu finden. Gleichzeitig steuern die Busse an und für sich wirklich alle Ziele in Dubai an. Die in der Regel für Aufmerksamkeit sorgen können. Es ist daher sehr zu empfehlen, sich mit dem Big Bus Tours Dubai einen wirklich guten und auch umfassenden Eindruck von den Städten zu verschaffen.
Mehrere unterschiedliche Touren
Dabei wird einfach ein einzige Ticket gelöst, mit dem es in der Folge möglich ist, an drei ganz unterschiedlichen Touren teilzunehmen. Gleichzeitig geht es aber auch um die Frage, wie es denn hier nun möglich ist, von den Angeboten zu profitieren. Besonders ist auch die Tour mit dem Wasserbus oder die Tour für den Sonnenuntergang in der Wüste. Die beide gar kostenlos in den Angeboten von Big Bus Tours Dubai integriert sind. Touristen die zum ersten Mal Urlaub in Dubai machen möchten natürlich sehr viel von der Stadt sehen. Eine sehr gute Möglichkeit ist eine Dubai Stadtrundfahrt beim Reiseveranstalter zu buchen oder eine Big Bus Tour in Dubai zu machen.
Beliebig oft den Bus wechseln
Hier ist der Vorteil das man an den Sehenswürdigkeiten in Dubai beliebig oft ein- und aussteigen kann. Es ist offener Doppeldecker Bus der in mehreren Routen die beliebtesten Sehenswürdigkeiten in Dubai abfährt. Ein Ticket ist 24 Stunden lang gültig. Und man kann an einer Attraktion in Dubai aussteigen und dort eine Stunde verweilen und danach wieder weiterfahren. Während der Fahrt erhält man vom Reiseführer interessante Informationen über Dubai in Englischer Sprache. Touristen aus Deutschland können sich ein Band in Deutscher Sprache anhören.
Top 3 Strandhotels in Dubai
Insgesamt gibt es zwei Routen. Eine rote und eine blaue Tour. Bei der roten Tour fährt der Bus die Sehenswürdigkeiten Dubai Museum, Al Fahidi Fort, Dubai Gewürz Souk, Sheikh Saeeds Haus ab und eine Fahrt auf dem Dubai Creek ist auch inbegriffen. Außerdem empfiehlt es sich noch den berühmten Gold Souk in Dubai anzuschauen. Alle 30 Minuten verkehrt der Bus und man kann wieder einsteigen wenn man möchte.
Die blaue Tour ist für Touristen interessant die sich das neue Dubai anschauen möchten. Hier werden die Sehenswürdigkeiten Jumeirah Moschee, das berühmte Burj al Arab Hotel, Atlantis The The Palm Hotel. Und die beliebtesten Shopping Malls in Dubai wie zum Beispiel Deira City Centre, Wafi Shopping Mall, The Mercato Mall, Souk Madinat Jumeirah, Mall of the Emirates, Dubai Mall und die Dubai Festival City angefahren. Eine Fahrt mit Big Bus Tour ist eine ideale Möglichkeit um sich die besten Sehenswürdigkeiten in kürzester Zeit in Dubai anzuschauen.