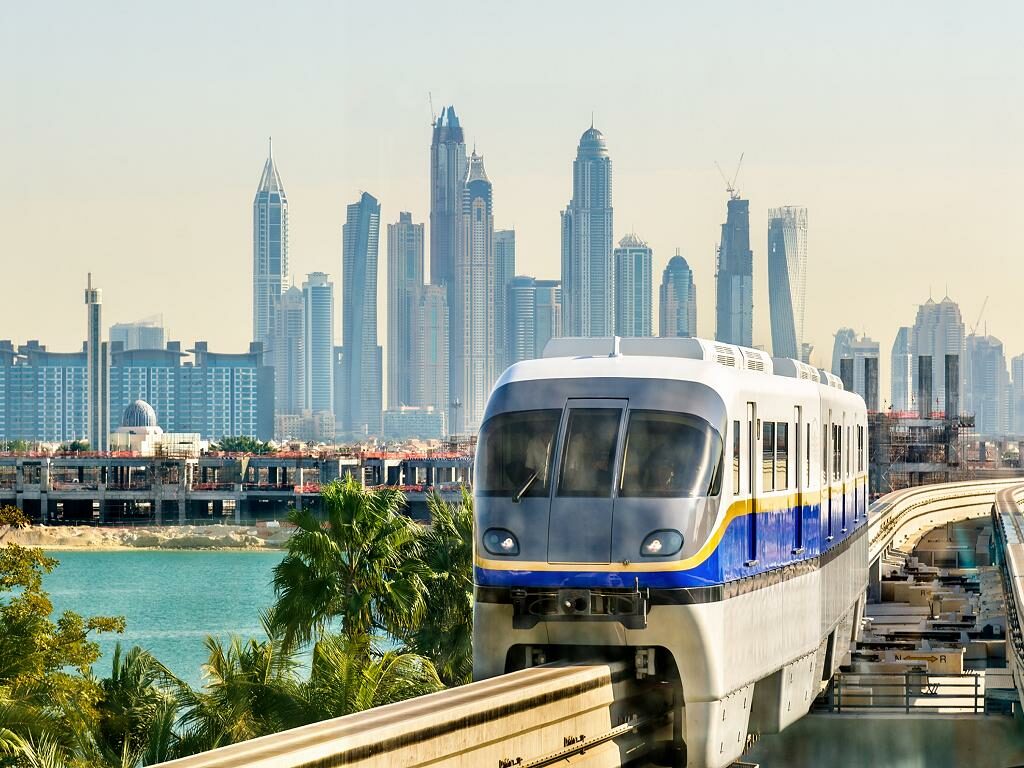 Für Touristen ein gutes Fortbewegungsmittel auf The Pam Jumeirah in Dubai ist die Palm Jumeirah Monorail. Mit dieser kann man sehr bequem und auch schnell die ganze Insel abfahren. Zu Fuß ist es nicht möglich diese anzuschauen da diese einfach zu groß ist. Was dies genau kostet und was man dabei beachten muß möchten wir hier einmal genau erklären.
Die Palm Jumeirah Monorail in Dubai
Eröffnet wurde diese Bahn bereits am 30. April 2009 und seit diesem Tag nutzen Touristen diese täglich um die Insel zu erkunden. Wie schon erwähnt kann man diese einfach nicht ablaufen und deshalb benötigt man ein Transportmittel. Die Palm Jumeirah Monorail ist dafür bestens geeignet und in wenigen Minuten hat man dann alles abgefahren und kann auch noch tolle Fotos machen. Weiterhin ist eine Fahrt auch sehr beeindruckend da diese an traumhaften Luxusvillen vorbeiführt. Die Aussicht auf das Luxushotel Atlantis The Palm ist sicherlich ein Highlight der Fahrt. Dort möchten sicherlich viele Urlauber gerne übernachten. Denn das ist eines der besten Hotels in ganz Dubai. Die Streckenlänge beträgt übrigens 5,45 Kilometer und der Aufbau ist sehr ähnlich wie bei der Dubai Metro. Wenn man mit dieser einmal gefahren ist dann wird man sich dort sehr schnell auskennen.
Welche Haltestellen gibt es
Momentan gibt es nur wenige Haltestellen der Palm Jumeirah Monorail wo man einsteigen oder aussteigen kann. Aber dies wird sich in Zukunft ändern und man kann zum Beispiel bei der Nakheel Mall Station aussteigen und das Einkaufszentrum besuchen. Derzeit gibt es die Möglichkeit von der Atlantis Aquaventure Station bis zur Gateway Station zu fahren. Mit einer Geschwindigkeit von 28 km/h ist man schnell dort. Allerdings muß man dann wieder umsteigen in einen anderen Zug der dann zurück zum Atlantis Hotel fährt. Für die Bewohner der Insel wird es sicherlich sehr nützlich sein wenn es mehrere Haltestellen gibt die man dann nutzen kann. Es wird auch einen direkten Anschluß an die Dubai Metro geben wo man dann mit dieser weiterfahren kann. Bis zu 40.000 Passagiere pro Tag nutzen dieses Fortbewegungsmittel.
Wie sind die Taktzeiten der Züge
Vor einer Fahrt sollte man sich auch über die Fahrzeiten informieren. Man kann zwischen 8:00 Uhr Morgens bis 22:00 Uhr Abends mit der Palm Jumeirah Monorail fahren. Die Züge haben einen Takt von 15 bis 20 Minuten und man braucht nicht lange zu warten. Wie bei der Metro gibt es auch ausreichend Sitzmöglichkeiten. Ein guter Tipp ist es noch nicht am Wochenende zu fahren. Denn dort hat es deutlich mehr Besucher die mitfahren möchten. Wer es etwas ruhiger haben möchte sollte lieber unter der Woche fahren. Dann hat es nicht so viele Touristen und man kann sich alles genauer anschauen.
Top 3 Strandhotels in Dubai
Preise für ein Ticket
Eine Fahrt mit der Palm Jumeirah Monorail ist gebührenpflichtig. Das Ticket kann man direkt vor Ort an der Tageskasse kaufen. Der Preis für Erwachsene Personen ist 30 Dirham ( 6,90 Euro ) wo man dann eine Hinfahrt und Rückfahrt hat. Wenn man nur eine einfache Strecke haben möchte dann bezahlt man 20 Dirham. Aber an der Gateway Station kann man kein Ticket kaufen und somit benötigt man beide. Eine Ermäßigung für die Kinder gibt es nicht und diese bezahlen auch den gleichen Preis.
Lage und Adresse der Monorail
Die Haltestation Atlantis Aquaventure befindet sich genau gegenüber vom Wasserpark Aquaventure des Hotels. Man kann von dort aus auch sehr schön auf den Park blicken. Dort muß man auch das Ticket kaufen. Zu empfehlen ist es sich mit dem Taxi hinfahren zu lassen. Man kann dort nicht parken mit seinem Auto. Wer im Atlantis The Palm Hotel übernachtet hat nur ein paar Meter dorthin und das ist sehr praktisch.
Unsere Bewertung
Wenn man die Insel einmal anschauen möchte dann ist die Palm Jumeirah Monorail derzeit das beste Verkehrsmittel das man nutzen sollte. In wenigen Minuten ist man alles abgefahren und man wird erstaunt sein wie groß die Insel überhaupt ist. Man kann dies nur aus der Vogelperspektive erkennen.