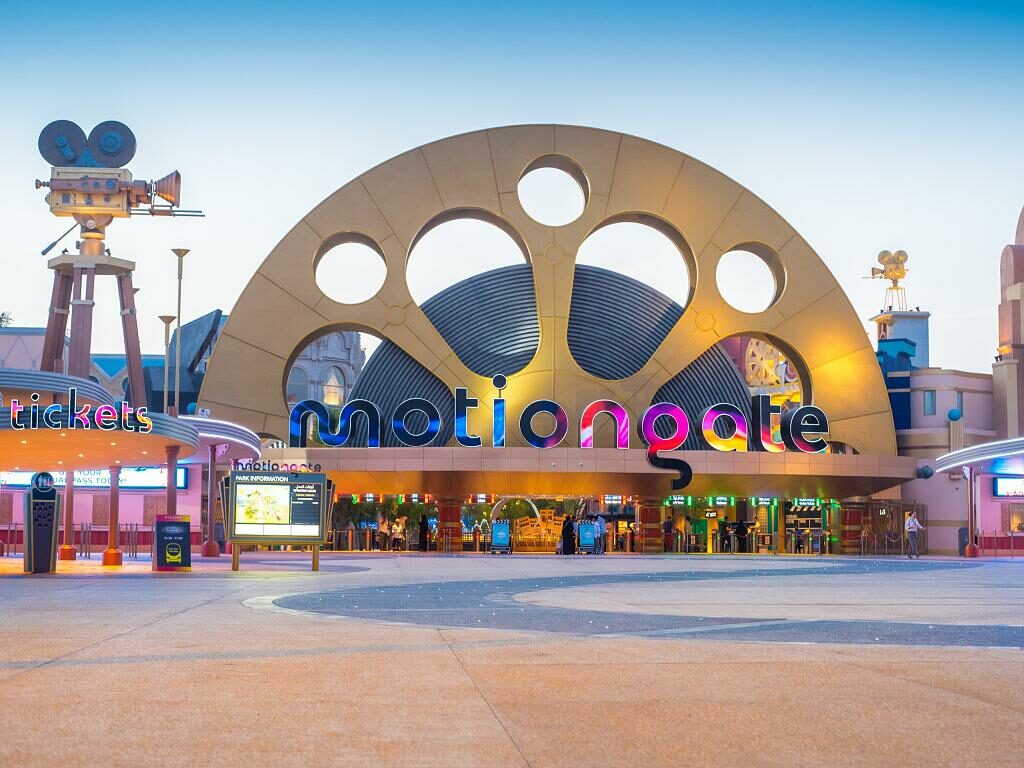 Zu Dubai Parks and Resorts gehört auch der Freizeitpark Motiongate Dubai. Dort gibt es für die Besucher sehr viele Attraktionen die man machen kann. Das Thema des Parks richtet sich an Hollywood und es gibt vieles interessantes das man sicherlich auch schon aus den bekannten Filmen kennt.
Informationen zu Motiongate Dubai
Eröffnet wurde dieser Freizeitpark am 16. Dezember 2016 und er ist Bestandteil von weiteren die sich dort befinden wie zum Beispiel die Bollywood Parks oder das Legoland Dubai. Für einen Besuch sollte man mindestens einen kompletten Tag einplanen damit man alles sieht. Mittlerweile kann man sogar dort übernachten im Lapita Hotel das sich direkt auf dem Gelände befindet. Besonders am Wochenende in Dubai muß man mit vielen Besuchern rechnen. Unter der Woche ist es etwas ruhiger.
Was für Attraktionen gibt es dort
Der Motiongate Dubai Park ist in verschiedene Zonen und Themenbereiche unterteilt. Weiterhin ist dort das wichtigste Thema natürlich Hollywood. Die Zonen sind zum Beispiel Studio Zentral, Columbia Pictures, Smurfs Village, Dreamworks und Lionsgate. Von Achterbahnen bis zu Shows kann man sich dort alles anschauen. Im Prinzip ist für jeden etwas dabei und es wird sicherlich nicht langweilig werden. Als Besucher kann man hinter die Kulissen von vielen Filmen werfen. Dadurch bekommt man einen sehr guten Überblick wie die Filme entstehen und gemacht wurden. Ein echtes Film Set gibt es übrigens im Studio Central und man kann dort Live dabei sein wie gerade ein Film entsteht. Für die Besucher ist dies natürlich sehr interessant. Nicht verpassen sollte man im Motiongate Dubai Park die Achterbahn Capital Bullet Train auszuprobieren. Eine weitere Attraktion ist zum Beispiel Hotel Transylvania und noch vieles mehr.
Wieviel muß man für ein Ticket bezahlen
Für den Besuch dieses Freizeitparks benötigt man ein Ticket. Wenn man nur wenig Zeit hat dann sollte man ein Tagesticket kaufen. Aber es gibt sehr viele unterschiedliche Arten wo man die Parks miteinander kombinieren kann. Somit kann man dort mehrere Tage verbringen wenn man möchte. Ein Tagesticket für Erwachsene Personen kostet 175 Dirham ( 40 Euro ). Wenn man Kinder dabei hat dann bekommen diese eine Ermäßigung auf den Eintrittspreis. In den Sommermonaten wo Nebensaison in Dubai ist werden dort die Preise gesenkt und man bekommt ein günstiges Ticket. Wenn man gerade in dieser Zeit dort Urlaub macht dann sollte man das ausnützen.
Top 3 Strandhotels in Dubai
Öffnungszeiten
Vor einem Besuch vom Motiongate Dubai sollte man sich unbedingt über die Öffnungszeiten informieren. Das heißt je nach Jahreszeit können diese anders sein. Aber dieser hat normalerweise an jedem Tag in der Woche geöffnet. Die regulären Öffnungszeiten sind von Montag bis Sonntag zwischen 11:00 Uhr bis 21:00 Uhr. Auf der Homepage kann man immer genau erkennen wie gerade der Park geöffnet hat. Das ist ein wichtiger Tipp den man unbedingt beachten sollte. Ansonsten kann es sein das der Park früher schließt und man hat dann nicht sehr viel von den Attraktionen. Weiterhin sollte man frühzeitig dort sein damit man auch etwas hat.
Adresse und Lage
Die Lage von Dubai Parks and Resorts ist sehr weit außerhalb von Dubai. Das heißt wenn man keinen Mietwagen hat dann sollte man das Taxi nutzen. Mit der Dubai Metro kommt man dort nicht direkt hin. Im Prinzip muß man in Richtung Abu Dhabi nach Jebel Ali fahrren. Der Motiongate Dubai Park liegt direkt an der Sheikh Zayed Road. Er ist gut ausgeschildert und man kann diesen nicht verfehlen. Das beliebte The Outlet Village befindet sich auch dort. Wenn man noch Zeit hat dann sollte man dort auch noch vorbeischauen.
Gibt es dort Restaurants und Geschäfte
Selbstverständlich gibt es im Motiongate Dubai auch zahlreiche Restaurants und Cafes wo man etwas Essen und Trinken kann. Man braucht überhaupt nichts mitzubringen und man besucht dort einfach ein Restaurant. Aber die Preise sind nicht so günstig. Dann findet man dort noch einen großen Souvenirshop wo man von Tassen bis T-Shirts alles kaufen kann. Ein Besuch ist besonders für Familien mit Kindern zu empfehlen und es ist ein tolles Ausflugsziel das man machen kann in der Stadt.