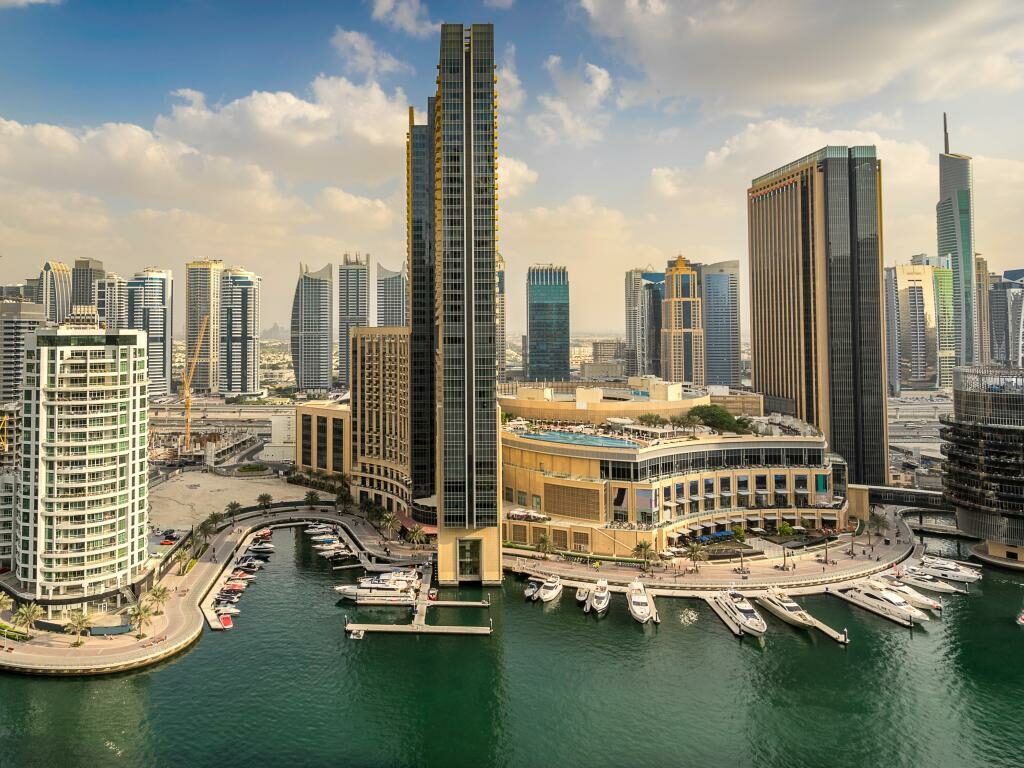 Die Dubai Marina Mall ist eine kleine aber dafür schöne Mall in der Dubai Marina mit 130 Geschäften wie man am Namen schon erkennen kann. In der Stadt gibt es ja sehr viele große Shopping Malls und die Dubai Marina ist ein eigener Stadtteil und damit die Einwohner dort nicht die Marina verlassen müssen wurde extra dafür die Dubai Marina Mall gebaut. Dort bekommt man praktisch alles was man zum alltäglichen Leben braucht ohne das man dafür weit fahren muß. Dubai ist flächenmäßig sehr groß und wenn man von der Dubai Marina zur Dubai Mall möchte dann ist man dort schon 30 Minuten mit dem Auto unterwegs. Es gibt einen großen Supermarkt im Untergeschoss und auch ein großes Parkhaus wo man den Mietwagen sogar kostenlos parken kann.
Viele gute Geschäfte
Die Dubai Marina ist eines der Highlights für eine Dubai Reise. Eine wunderschöne Marina mit vielen Restaurants und Bars. Hier kann man den Abend ausklingen lassen. Viele Wolkenkratzer wurden in den letzten Jahren gebaut. Aber eines hat in der Dubai Marina noch gefehlt. Eine große Shopping Mall. Diese ist nun fertiggestellt und wurde eröffnet. Die Dubai Marina Mall verfügt über 130 Geschäfte mit vielen bekannten Markenherstellern wie zum Beispiel Bebe, Miss Sixty und viele mehr. Weiterhin gibt es mehrere Restaurants, Cafes und einen großen Foodcourt. Für das Parken in der Dubai Marina Mall steht ein großes Parkhaus mit 2.100 Parkplätzen zur Verfügung.
Großes Kino
Weiterhin gibt es noch ein großes Kino und für die Kinder eine Kids Zone wo Sie spielen können. In Dubai gibt es ja schon sehr viele Shopping Malls aber die Dubai Marina Mall hat einfach noch gefehlt. Shopping Malls in Dubai sind für Touristen ein sehr großer Anziehungspunkt. In Dubai gibt es die sogenannten Mega Malls mit hunderten von Geschäften und Attraktionen. Bisher mussten die Hotelgäste die am Jumeirah Beach Urlaub machten immer die Mall of the Emirates oder die IBN Battuta Shopping Mall ansteuern. Diese Malls waren bisher die nächsten die sich in der Nähe befanden. Nun ist die Dubai Marina Mall dazugekommen und ideal wenn man am Abend keine Lust mehr hat weiters zu fahren aber trotzdem in eine Shopping Mall in Dubai möchte.
Somit ist die Dubai Marina der ideale Treffpunkt für Dubai. Hier gibt es Hotels, Shopping Malls, Bars, Cafes, Restaurants und Supermärkte. Die Dubai Marina hat eine Infrastruktur wie eine Stadt in der Stadt. Weiterhin kann man in der Dubai Marina Mall auch Geld umtauschen und es gibt mehrere Wechselstuben. Ganz oben ist der Foodcourt wo man schnell etwas essen und trinken kann wenn man möchte. Die Aussicht von dort oben ist auch einzigartig auf die Skyline der Dubai Marina. Aber es gibt noch viele weitere Restaurants in der Dubai Marina Mall. Die Öffnungszeiten sind von Sonntag bis Mittwoch von 10:00 Uhr bis 22:00 Uhr und von Donnerstag bis Freitag von 10:00 Uhr bis Mitternacht.
Top 3 Strandhotels in Dubai