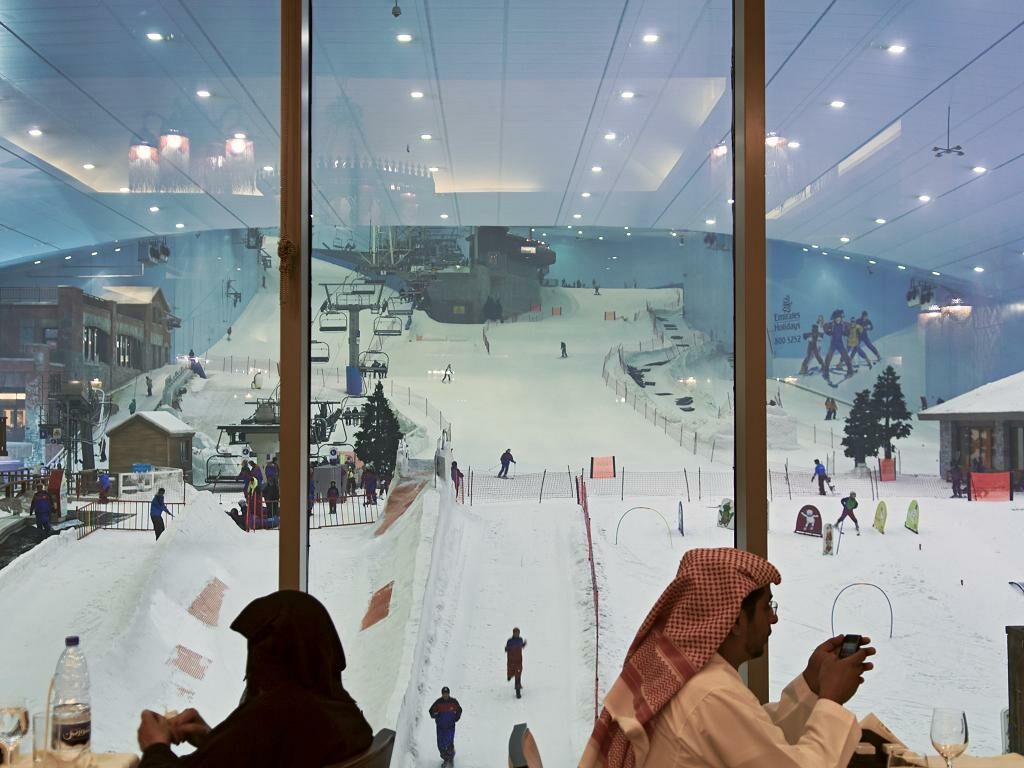 Sehr beliebt bei Touristen ist immer die Mall of the Emirates wo sich auch der Ski Dubai Komplex befindet. Skifahren in Dubai ist natürlich die Touristenattraktion. Dubai hat dies möglich gemacht und eine gigantische Skihalle gebaut wo gleichzeitig bis zu 1.500 Skifahrer den Hang hinunter fahren können. Die längste Strecke ist 400 Meter und hat einen Höhenunterschied von 60 Meter. Touristen die gerne einmal in der Skihalle fahren möchten müssen sich um nichts kümmern. Die komplette Skiausrüstung von Ski, Snowboard, Jacken, Hosen, Helm und Skischuhe sind beim Ticketpreis inklusive. Es werden verschiedene Tickets angeboten. Von nur einer Stunde bis zum Tagesticket kann alles gekauft werden.
Skikurse
Für Anfänger die noch nicht sehr gut Skifahren können werden sogar Skikurse angeboten. Für die Kinder gibt es den Snow Park wo man Schlitten fahren kann im größten Indoor Snowpark der Welt. Der Aufwand für die Skihalle Ski Dubai ist natürlich sehr enorm. Draußen betragen die Tagestemperaturen über 40 Grad und in der Skihalle betragen die durchschnittlichen Tagestemperaturen konstant zwischen -1 und –2 Grad Celsius. In der Nacht wird die Temperatur auf minus sieben Grad gesenkt damit man Neuschnee produzieren kann.
Schneeproduktion
Jede Nacht schneit es nämlich in der Skihalle Ski Dubai damit die Besucher am nächsten Tag auf einer ausgezeichneten Piste herunterfahren können. Nach dem Skifahren kann man sich noch in einem der zahlreichen Cafes wie zum Beispiel dem St Moritz Café den Tag ausklingen lassen. Zum Komplex gehört auch noch das Kempinski Hotel Mall of the Emirates wo man sich ein Ski Chalet buchen kann mit Blick auf die Skipiste. Wer an Dubai denkt, der denkt zunächst an eine warme Stadt, in der die heißen Tage dominieren.
Größte Skihalle der Welt
Wer an Dubai denkt, der denkt aber auch an riesige Bauprojekte und ein Beispiel dafür ist zum Beispiel die so genannte Ski Dubai Halle. Das ist eine Skihalle im Stadtteil Al Barsha von Dubai. Dieser liegt direkt an der Sheikh Zayed Road. Einer wichtigen, wenn nicht der der wichtigsten, Durchgangsstraße in Dubai. Ski Dubai gehört zur Mall of the Emirates. Die Mall of the Emirates ist eine große Shopping Mall mit zahlreichen Läden für alle Vorlieben. Ski Dubai hat eine schneebedeckte Fläche von rund 22.500m².
Top 3 Strandhotels in Dubai
Es gibt insgesamt fünf verschiedene Abfahrten in Ski Dubai. Diese sind geordnet von leicht bis anspruchsvoll. Die längste am Stück befahrene Abfahrt ist 400 meter lang. Für Fans vom Freestyle Ski fahren und snowboarden gibt es außerdem eine Halfpipe mit einer Gesamtlänge von rund neunzig Metern. Die Temperatur in der Anlage beträgt während der Zeit des Publikumsverkehr rund -7°C.
Während keine Kunden in der Skihalle sind wird die Temperatur auf bis zu -1°C erhöht. Der Tageseintritt beträgt zwischen 46€ für Kinder und 58€ für Erwachsene. Bereits seit dem Jahr 2005 können Touristen in Ski Dubai auch im Urlaub in einem warmen Land Ski fahren. Seit dem Jahr 2009 ist Ski Dubai sogar mit einer eigenen Metro Station erreichbar. So ist die Station nicht nur per Auto sehr gut erreichbar, sondern auch über das sehr gut ausgebaute und sehr zuverlässige Schienennetz von Dubai.